As culturally diverse as the subcontinent is large, India's northern realms offer stunning opportunities for beginners and seasoned photographers alike. Join award-winning professional photographer and anthropologist, Dr. David Bathgate, for this very special photographic exploration of the varied cultures, landscapes, towns and villages, which together make this friendly and unhurried part of India so unique.
Beginning in the spiritual heartland of the Sikh religion, Amritsar, we explore the grandeur of the Golden Temple by day and night. A visit to the Bhaga border ceremony, where at day's end, India and Pakistan close their gates with great pomp and ceremony, will also be in order.
Then it's on to McLeod Ganj, a pleasant half-day's scenic drive into Kangra District of the Indian state of Himachal Pradesh. There will be undoubtedly many stops on the way and chances to capture panoramic glimpses of the majestic Dhauladhar Mountain Range - foothills to the Greater Indian Himalayas, beyond.
Reaching Little Tibet, as McLeod Ganj is often referred to, we base ourselves amid red-robed Buddhist monks, the Tibetan Government-in-Exile, and within walking distance of His Holiness the Dalai Lama's private residence itself. A mix of Buddhist and Hindu, ancient and modern McLeod Ganj provides a wealth of dynamic themes and subjects to photograph.
Colour is intensified in clear mountain air and we be right there to bring it to photographic life with a short and leisurely journey from McLeod Ganj, up hillside paths to Dharamkot and Naddi Village. Gaddi is the ethnic group in this area, a people who traditionally moved semi-nomadically, crossing high passes in spring and autumn with their herds of sheep and goats. These days, most Gaddi families are permanent residents of the area and add interestingly to portraiture that can be gained here with nothing more than a greeting and a smile.
Amid the natural beauty of Basunti as our base, wildlife, landscapes and the agrarian-paced lifestyle of villagers will be our focus. Basunti is situated in a midst a wildlife sanctuary, surrounded by exquisite views of the vast waters of the Maharana Pratap Sagar and the Himalayan foothills in the distance. Here we have plenty of time to explore by foot, photograph, and engage in evening discussions and critiques of our daily work. While at Basunti - water levels permitting - we visit the magical Bathu Temples, submerged in the lake during most of the year.
Capturing India's North Land is a photo workshop, not a photo tour. There's a big difference. Designed for beginners and experienced photographers alike, expect to be immersed in photography every day, with both group and individual instruction to inspire your creativity, develop your skills, and build your confidence as a photographer working in a foreign land. By workshop's end, you'll have a stunningly impressive collection of images that any keen photographer would be proud to place their name to.
NOTE: This workshop is limited to just 6 participants and places fill up fast. Sign up now !
Instructor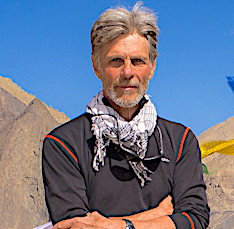 Basunti Single Supplement: $795
Day 1 - Arrive Amritsar and make your way to Mrs. Bhandari's Guesthouse where you will be greeted by your workshop leader, David Bathgate. Group introductions will then be followed by a brief discussion of just what to expect from the photo adventure ahead, as well as a presentation of tips on composing and photographing stunning nature, people and landscape images.
Overnight at Mrs. Bhandari's Guesthouse / Bed & Breakfast accommodation
Day 2 - Early morning breakfast followed by photography at the Golden Temple. Lunchtime discussion of morning work - addressing difficulties, perspectives and ways forward, as well as pointers on how to effectively photograph night-time shoots. Following the evening meal, we'll visit the Golden Temple to put those low-light photography pointers to work.
Overnight at Mrs. Bhandari's Guesthouse / Bed & Breakfast accommodation / "Welcome Dinner"
Day 3 - Following breakfast we'll board a private van for the drive up the picturesque Kangra Valley to the town of McLeod Ganj (approx 4.5 - 5 hours). At an elevation 2004 m (6,575 ft), "McLeod" is headquarters of the Tibetan government in exile and the residence of His Holiness the 14th Dalai Lama. Upon arrival, we'll check into the Bhagsu Hotel. In the afternoon we'll take a foot-tour of the town and temple complex, greeting Tibetan residents with the traditional, "Tashi Delek," along the way and gaining a sense of just where we are. Following our evening meal, we'll discuss Tibetan culture and society here and take a look at any photos the group has made, allowing time, of course, for advice and friendly critiques.
Overnight at the Bhagsu Hotel / Bed & Breakfast accommodation
Day 4 - Following breakfast at our hotel, we'll continue to explore McLeod Ganj and its mix of Tibetan and Indian culture. David will be close by to lend advice and photo tips when and where needed. The day's photo assignment: "Capturing a Sense of Place: Little Tibet." We'll meet for mid-morning coffee at the Moonpeak Cafe, discuss the assignment so far and continue until lunch. Following lunch we'll have a brief discussion of what is working and what not - photographically, and spend the afternoon hours making needed corrections in technique and approach. Venue for the evening meal we'll make a group decision, followed by evening discussion of the day's full-on photo assignment adventure.
Overnight the Bhagsu Hotel / Bed & Breakfast accommodation
Day 5 - Our guesthouse breakfast this morning will be followed by photography along the trail that circumambulates Tsuglagkhang Temple complex and residence of His Holiness The Dalai Lama. Circumambulation is a devotional practice where Buddhists walk around a temple to cultivate reflection on compassion and wisdom. The scene is a colourful one for photography, full of prayer flags, prayer wheels and lots of interesting, friendly faces. A walk back into town for a few more "indepth images" will round out the morning. We'll choose somewhere to meet for lunch and back out again in the afternoon with an "assigned" photo project to challenge you. The evening meal venue will be yours (group) to choose. Once back at the guesthouse, we'll turn a critical eye to everyone's assigned photo project results for the day.
Overnight at the Bhagsu Hotel / Bed & Breakfast accommodation
Days 6, 7, 8, 9, 10, 11 - Following breakfast this morning we'll board a private van for the short ride "down the mountain" to Norbulingka, an institute whose spacious grounds and buildings reflect Tibetan Buddhist architecture and whose mission it is to preserve traditional Tibetan art, handicrafts and culture. There'll be plenty of opportunity for capturing stunning environmental portraits on this day, along with gaining a greater appreciation of Tibetan culture in general. Lunch will be at Norbulingka's own cafe, featuring Tibetan dishes and Indian teas. We'll then re-board our van for the drive down the verdant Kangra Valley and onto Basunti. Arriving late afternoon, there will still be time for a swim in the pool or simply a lounge on the veranda -cup of tea or coffee in-hand. After a delicious and healthy home-cooked evening meal, we'll take time by the fireplace to discuss the days ahead. Basunti offers a wealth of photo opportunities, from stunning wildlife and spectacular scenery, to friendly traditional villages, accessible by foot. Canoe trips and day tours to historic sites in the area can also be arranged at an extra fee.
All meals included; overnight at Basunti
Day 12 - Following a final - and always-memorable - Basunti breakfast, we'll board a private van to Amritsar International airport for onward flight connections.
Workshop price:
Workshop deposit due 15 June / balance due no later than September 30, 2023 (total amount refundable in the event of workshop cancellation).
Workshop price includes:
Workshop instruction
Airport transfers (Amritsar International) and all transportation during workshop
Welcome Dinner on second evening
11 nights accommodation (Amritsar, McLeod Ganj and Basunti)
Basunti - full board / B&B basis at all other guesthouses
Workshop price does not include:
Airline tickets
Visa costs
Insurance
Canoe hire at Basunti and day tours (Note: One day tour is included in the workshop price).
Drinks
Meals where not indicated in the itinerary
Laundry
Tips
What to bring:
Camera kit and working knowledge of your equipment
Laptop computer with photo processing software (e.g. Lightroom, Photoshop, etc.)
A tripod or monopod will be useful
Enthusiasm, sense of adventure, and willingness to step (occasionally) outside your comfort zone
Warm weather clothing appropriate by Indian cultural standards
Swim attire for Basunti
Warm pullover or light down jacket for Mcleod Ganj evenings
For enquiries and sign-up, please contact: support@thecompellingimage.com