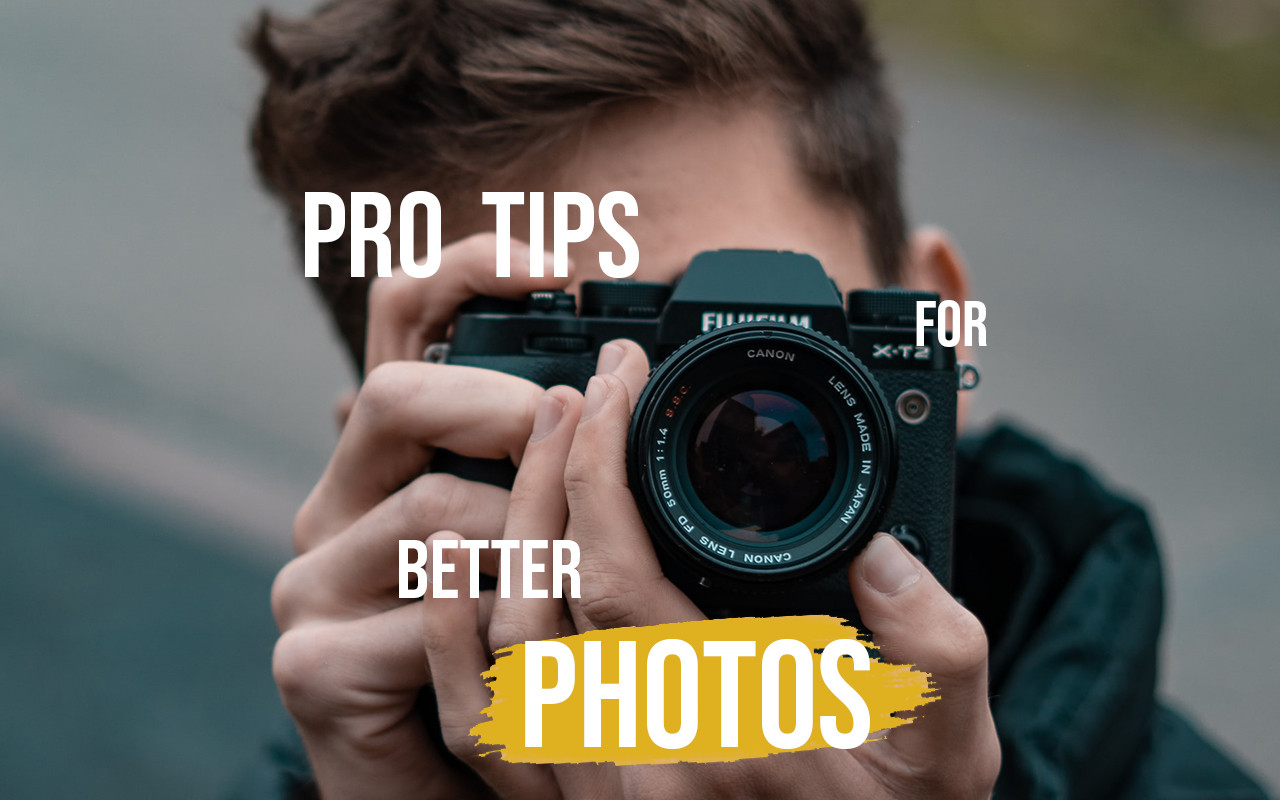 Are you ready to elevate your photography skills? We can teach you a few simple techniques that will take your images from drab and ordinary to awe-inspiring! First, let's start with the basics of composition. Then, use our seven tips for better photos to get started immediately. What are you waiting for - unleash the photographer in yourself today!
Pro Tips For Capture Best Photos - Complete Guide
Ensure you take advantage of capturing your best photos with these helpful tips and tricks!
1. How To Compose Great Photos
Captivating photos begin with a stunning composition: how you arrange the shot and where each element is placed within the image. Once you understand the fundamentals of photo composition, your photos will take off, and you'll be able to capture stunning shots!
Capturing and preserving a moment in time can be an art form, so sometimes you must rely on instinct and intuition when taking photos. When you choose a subject and apply the Rule of Thirds principle to your photograph, the result will be an improved image. The Rule of Thirds encourages you to challenge the traditional approach and place your subject or horizon line off-center instead of in the middle. Doing so lends a creative flair to any image, making it more eye-catching and memorable for viewers.
Intensify the impact of your subject by thoughtfully composing your image in the frame. Constructing a decorative border around your idea with an editing app differs from creating a good composition. Seek out elements inside the scene that can be used to draw attention to your subject or focal point. Frame your subject within the boundaries of possibility, utilizing every possible tool. Unleash your creativity and explore the endless possibilities.
For example, you could use a structural element as part of the foreground, such as an open doorway, window, or fence. Or pieces from any of these elements to create an exciting composition. Nature holds gorgeous elements, such as trees with their branches and foliage. With a creative portrait, your subject can showcase their flexibility by forming shapes with their hands, arms, and even legs!
Creative framing can offer a fresh gaze and direct the spectator's attention to your subject how you want it. Developing an eye for structure can take a bit of time. However, in no time, you will identify opportunities for framing everywhere your eyes land.
2. Keep It Simple
Even the simplest photograph can yield stunning results! You don't need a lot of activity in your photo to create something beautiful.
Indeed, the more significant amount of negative space in your image will only further emphasize its subject.
Allocating a generous amount of space around your focal point will make it more prominent and eye-catching.
3. Change Your Perspective
You sometimes have to put yourself in uncomfortable positions to capture the perfect shot. To capture a photo, the most natural approach is standing upright and pointing your camera directly ahead of you at eye level. Although this method can be successful, think outside the box and explore new perspectives.
For remarkable photography, change your point of view; look at the world from a different angle. Elevate your photography by exploring other points of view. To achieve a soft, out-of-focus background, try shooting your photos from a lower angle with the main focus on the foreground. Alternatively, you can try the opposite approach.
Try looking up and photographing your subject from above for a unique perspective! To add variety to your images, you can also gain a unique perspective by shooting from above or through an object like a fence or crystal ball. Have you ever thought of capturing a stunning macro image? Rarely do people witness such an intimate look at their subject, up close and personal.
You can create a captivating, remarkable, and unforgettable experience with any of these choices.
Read also: https://thecompellingimage.com/blog/rules-of-composition-in-photography
4. Add Depth To Your Images
Immerse your viewers into the scene by bringing a three-dimensional effect to your photographs. With the creative utilization of layers and leading lines, you can captivate your viewers and draw them into the image.
Including elements in the foreground of an image, as we discussed with perspective earlier, adds depth and helps direct the viewer's eye to your composition. You can use the foreground to direct your viewers' attention toward the subject of interest or make it the main focus. Remember that not all topics require pinpoint precision; sometimes, a slight blurriness can add character to the shot.
The composition can be enhanced by adding visual cues to the image, such as leading lines that draw the viewer's eye into and around the scene. From the streets we pass to renowned works of art, leading lines are ubiquitous in our everyday lives! Whether these lines are natural or just an illusion is still being determined. These visual cues grab the viewer's attention and pull them deeper into your artwork, further emphasizing its primary subject. To capture stunning images, aspiring photographers should look for organic leading lines, such as a sequence of trees, river banks, bridges, railings, or highways.
5. Use The Sun To Create A Silhouette
While the sun is usually not an excellent backdrop for pictures, there's an easy way to take unique silhouettes even when facing it. Silhouettes are an artistic technique that creates a captivating image of your subject by outlining it in dark or black against a lighter backdrop. We can capture a powerful impression with little or no detail by emphasizing the subject's sharp, crisp edges and blurring out its shadowy form.
When taking a picture, please select your desired subject and adjust yourself accordingly so that the sun radiates directly behind it or any other objects featured in the image. You can permit the sun to peek through, depending on your chosen topic. A bright beam of sunshine illuminates the scene, creating a brilliant ambiance. Change your angle to determine if you desire an outline or partial silhouette with the sun's rays in or out of the picture.
If your topic is far away, why not employ a nearby item as an effective way to block the sun's rays? This can be an excellent solution for those seeking shade.
6. Look For Reflections
Exploring the reflections on your topic provides a captivating perspective to discuss. Considerations can take your image to a new level of excellence - you must train yourself to recognize them.
Reflections abound - one might find them in a puddle on the sidewalk, upon a natural lake's surface, within mirrored lenses of sunglasses, or even glimmering from a window pane. Through reflective observation, even the most mundane of subjects can take on an enthralling and inspiring quality.
On a still day, the tranquil surface of a lake, river, or pond offers an exquisite visual for capturing beautiful photographs. An exceptionally windy day, however, can induce a much more dramatic touch with its capricious waves and whirls that turn any reflection into an abstract affair.
On a bustling city street, glass windows and doors can be unpredictable. One never knows what may happen to them at any given time! The hustle and bustle of moving vehicles and people may be so captivating that you only recognize some of the activity much later when reviewing your footage.
Glass can be used as a reflective surface or prop, supplying many shooting and editing options when capturing your image.
Read also: https://thecompellingimage.com/blog/how-to-become-a-travel-photographer
7. Find Symmetry
Symmetry is the quality of having equivalent parts that are precisely identical and face each other or revolve around an axis. Symmetry is beautiful and can leave you in awe when you witness its perfection.
Consider this: what is on the left side mirrors what is on the right, and vice versa. Alternatively, whatever you find at the top can be seen again when looking below.
To achieve the highest visual accuracy and aesthetics, you must line up the verticals and horizontals to get a perfectly symmetrical image. Find harmony in architecture as you would find it while observing nature. Aim for an excellent capture when taking photos, yet remain ready to refine it and perfect the details during post-production.
How To Take Better Photos: Conclusion
Numerous techniques and strategies will help you capture breathtaking photos if you want to elevate your photography. Let's start with the basics and then move on to some simple techniques to enhance your photography skills drastically.
Begin your photography journey with the remarkable Rule of Thirds, and then frame some shots to capture your subject's attention.
Simplicity is vital in photography – focus on the subject without over-complicating your shots. Adopting new angles and points of view allows you to create captivating photos that stand out from the rest. Furthermore, add dynamic range to your image by featuring the foreground and leading lines that guide viewers into your scene.
Capture the beauty of nature by intentionally aiming your camera at the sun, creating dramatic silhouettes of landscapes and people.
Finally, seek out reflections in water and windows to discover captivating symmetrical silhouettes of architecture and organic beauty.
Therefore, capturing remarkable photos is more accessible than one might think! Everyday images can be transformed into something extraordinary by simply applying a few creative techniques. Devoting a few minutes to honing these skills will soon open your eyes, revealing plentiful opportunities in all you do. Before you know it, capturing those perfect shots will be like second nature, and your photography skills will be better than ever.
If you're interested in capturing amazing photos with your digital camera, join the 121,487 subscribers who receive our Photography Pro email tips exclusive to this website. With our newsletter, you'll have insider access to great photography secrets!
Frequently Asked Questions (FAQs)
Several users have voiced their questions concerning tips for snapping better photos. Take a look below!
Q. Which Are Tips For Taking Better Photos?
Ans. There are seven tips that you have to know to take better photos:
Invest in quality equipment
Pick your focal point
Use the rule of thirds
Change your angles
Pay attention to framing
Use ideal lighting
Use filters and settings
Q. What Is The Photography 3 Rule?
Ans. With the rule of thirds, your subject can be placed in the left or right third of any photo for a captivating and aesthetically pleasing outcome. There are other methods to arrange an image, but this specific approach has repeatedly produced compelling results.
Q. How Do I Make My Photos Look Luxurious?
Ans. If you want to achieve luxurious-looking photos, there are some simple steps you can take:
Put on your longest lens.
To capture beautiful photographs, set the camera to aperture priority mode.
Lower the aperture to its lowest limit.
Get as close to the subject as possible while allowing your lens to bring it into crisp clarity.
Position the issue at a distance from any background elements for optimal results.
Place your attention on the focal point of interest.
Capture the moment.