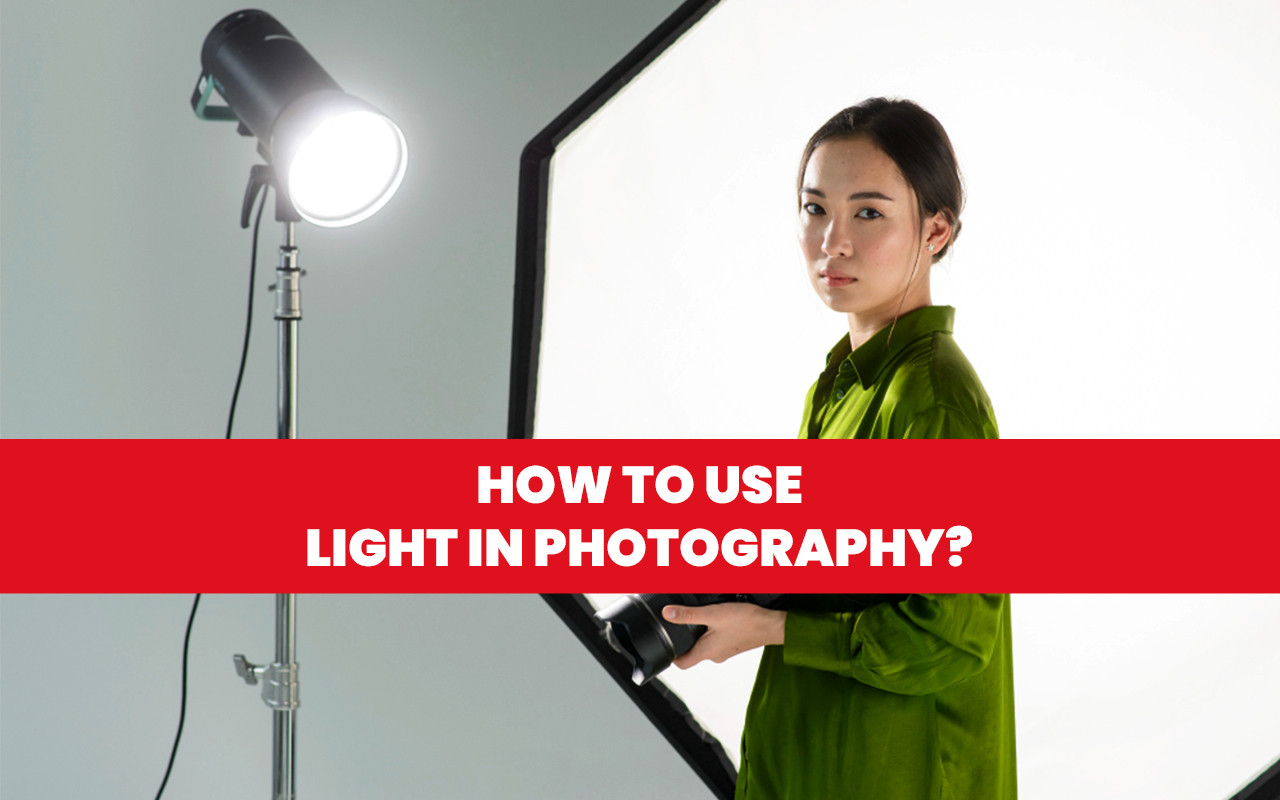 With a few tips and tricks, you can take stunning photos like a professional — without breaking the bank on an expensive camera! Discover the power of light! By experimenting with unique lighting such as backlighting, side lighting, and diffused lighting, you can take professional-grade photographs without investing in costly equipment. All it takes is a bit of creativity—and your everyday cell phone!
Want To Use Light In Photography - Here's A Complete Guide
To give your photography a stunning effect, here are some expert tips and tricks to help you utilize natural light. Capturing the perfect photograph depends on skillful photography - it can be the difference between an incredible shot and a disaster.
Perfecting The Fundamentals
1. Find The Light Source
Gaze around you and observe the source of light. Light can be found almost anywhere — above, below, or even behind you — as it significantly shapes how your subject appears in the image. For instance, if the illumination is from above your subject, you will have sharp shadows in the picture; however, when placed in front of them, that would lead to a flattened result.
Experiment with your subject's position and observe how a different angle of light alters the picture. Illuminate your subject in a way that will bring out their best features and create the desired look. Specific lighting techniques can be employed to enhance or add drama, depending on your aim.
2. Note The Color Of The Light
Light's brilliance, intensity, and shades can fluctuate depending on its origin; it can be dazzlingly bright and vivid or gentle with muted colors. Depending on its temperature, your light can drastically affect how your subject appears in the picture. If it's too cold or warm, your images may look overly harsh, too soft, or simply wrong. Therefore, selecting a quality illumination source is essential to obtaining excellent photographs!
Read also this article: https://thecompellingimage.com/blog/best-ways-to-improve-your-photography-skills
3. Look For Details
Even though your eyes can perceive much more than a camera, you may still find it difficult to replicate what you see in images. However, capturing those desired details is achievable if you consider exposure - or the overall light and dark variations of a scene.
4. Look For Contrasts
The angle of the light can give rise to varying contrasts in an image, with highlights being its brightest elements. On the other hand, shadows are the most unhappy area of an image. Yet it is precisely this interplay between dark and light that makes a photo eye-catching. Understanding the influence that lighting has on contrast will take your photography from ordinary to extraordinary. Your photos will become so remarkable that friends and family won't be able to contain their enthusiasm!
Side-lit photos tend to have considerable contrast, while front-lit photography usually contain minimal contrast. While images taken on cloudy days often lack contrast, those shot in the light of day are far more vibrant.
Taking Advantage Of Light Direction
1. Use Front Lighting For The Most Certain Results
The simplest way to work with light is by arranging your subject so that the light brightly illuminates them. By tweaking the lights' brightness, you can create stunning and unique photos from a common setup. Take advantage of soft front lighting for stunning results - harsh flashes, however, can be too overwhelming.
Flash is the most popular form of front lighting. Most cameras have an inbuilt flash that activates itself once it detects a dimly lit environment. You can disable this feature to use the flash only when desired for greater personalization. When the light is too intense, you can use it to cast shadows and add depth. At times, you may desire a special effect created by the shadows cast on an image, thus, desiring to eliminate any external flashes from being used.
To avoid the dreaded "red eye," have your subject glance away from the camera when you take photos. Flash photography can cause this common issue, but a simple gaze shift can help reduce it significantly. Thanks to the plethora of free photo editing software available on the internet, you can easily edit red-eye from your photos without spending a penny.
Read also this article: https://thecompellingimage.com/blog/how-to-edit-photos-like-a-professional
2. Use Back Lighting To Create Dramatic Photos
Captivating backlit photos is a captivating departure from the traditional photographic approach. With a backlight photograph, the background is illuminated, and the foreground appears dimly lit. Capturing a solar eclipse is the perfect opportunity to take an extraordinary backlit photograph. Mastering lighting and camera settings can be tricky, but with experimentation, you'll soon learn to create the beautiful images you envision.
3. Use Side Lighting For Stand-out Portraits
Capture stunning shots with your camera by shining light from the side of your subject, producing a striking contrast between illuminated and shadowed areas. Capturing vivid, three-dimensional photographs is especially easy with landscape and portrait photography, thanks to depth.
Illuminating an image from the side can create a mesmerising effect, yet use it sparingly. Too much contrast may result in unfavourable results. Professional photographers often employ a reflector or flash to help diminish shadows and soften the lines in their photos.

Capturing a stunning portrait of your subject is easy with the classic window-side pose. Have them stand near the light, facing away from the camera to one side, for an unforgettable shot. You can create distinct effects by having your subjects modify the direction of their faces. For one snap, have them stare out a window. Then for another image, ask them to meet your eyes directly.
4. Use Diffused Lighting For Natural Pictures
Diffused lighting is a gentle light that can be created from the sun's rays reflecting off clouds, shadows of trees, or radiance bouncing from walls and ceilings. The soft light emitted from this source creates a captivating image that accurately portrays the subject's true colors and nuances.
Focusing On Light Quality
1. Take Photos During The Golden Hour
The Golden Hour is that magical time right off dawn and dusk when the sun lies just above the horizon, emanating a warm, soft light. This delicate radiance is ideal for all sorts of photography.
2. Take Photos On Overcast Or Cloudy Days
The time of day and weather conditions significantly impact the kind of light you will be capturing. Strangely enough, overcast is great! Clouds diffuse the light, diminishing shadows or making them barely visible. Structures like big buildings and trees can also generate diffused lighting similar to an overcast day.
The overhead sun gives many photographers an ideal setting for capturing brilliant shots. Unfortunately, capturing pictures during this time often leads to dull and washed-out colors. When taking pictures of individuals, shadows will appear deeper than facial features. Moreover, you should anticipate observing squinting eyes and looking intently into your viewfinder.
3. Be Aware Of Light Color
During the magical Golden Hour, a dazzling array of red and yellow hues illuminate the sky. This light is perfect for capturing vivid and inviting photos. If you photograph people, they will be especially pleased as warm colors enhance skin tones and create a more joyful environment overall.
From the minutes just before sunrise to those after sunset, when the sun has dipped below our line of sight, lies a hazy hour known as Blue Hour. The morning and evening light creates a breathtaking, azure shade that can help to create photos with an evocative feel.
Frequently Asked Questions (FAQs)
Here are answers to some of the most common questions people ask about using light in photography.
Q. How Do You Take Pictures In Bright Sunlight?
Ans. Capture your outdoor photoshoots in the most beautiful light possible by having your subject stand in the shade. Whether beneath a tree or close to a building, shaded lighting will produce far better results than direct sunlight.
Q. What Is The Colour Performance For The Picture Under Sunlight, Flashlight, Halogen Lamp, And Fluorescent Lamp?
Ans. Sunlight and flashlight show all colors, although the quality of color reproduction depends on the type of lamp used. For example, a fluorescent lamp for photography must have a higher CRI (Color Rendering Index) to ensure that all colors are faithfully reproduced.
Q. What Are The 3 Rules Of Light For Photography?
Ans. 3 Principles of Light Behaviour Every Photographer Needs to Know
Q. What Lighting Is Best For Photos?
Ans. Photographers recognize golden hour lighting as the ideal light for capturing beautiful images. Many photography experts prioritize shooting during this time since it can make all the difference in producing high-quality photos.
Q. What Are The 4 Types Of Lighting In Photography?
Ans. Aspiring photographers should be familiar with the four types of light: hard, soft, specular, and diffused. It can be tricky to tell them apart if you're still learning; however, it's essential to becoming a successful photographer.