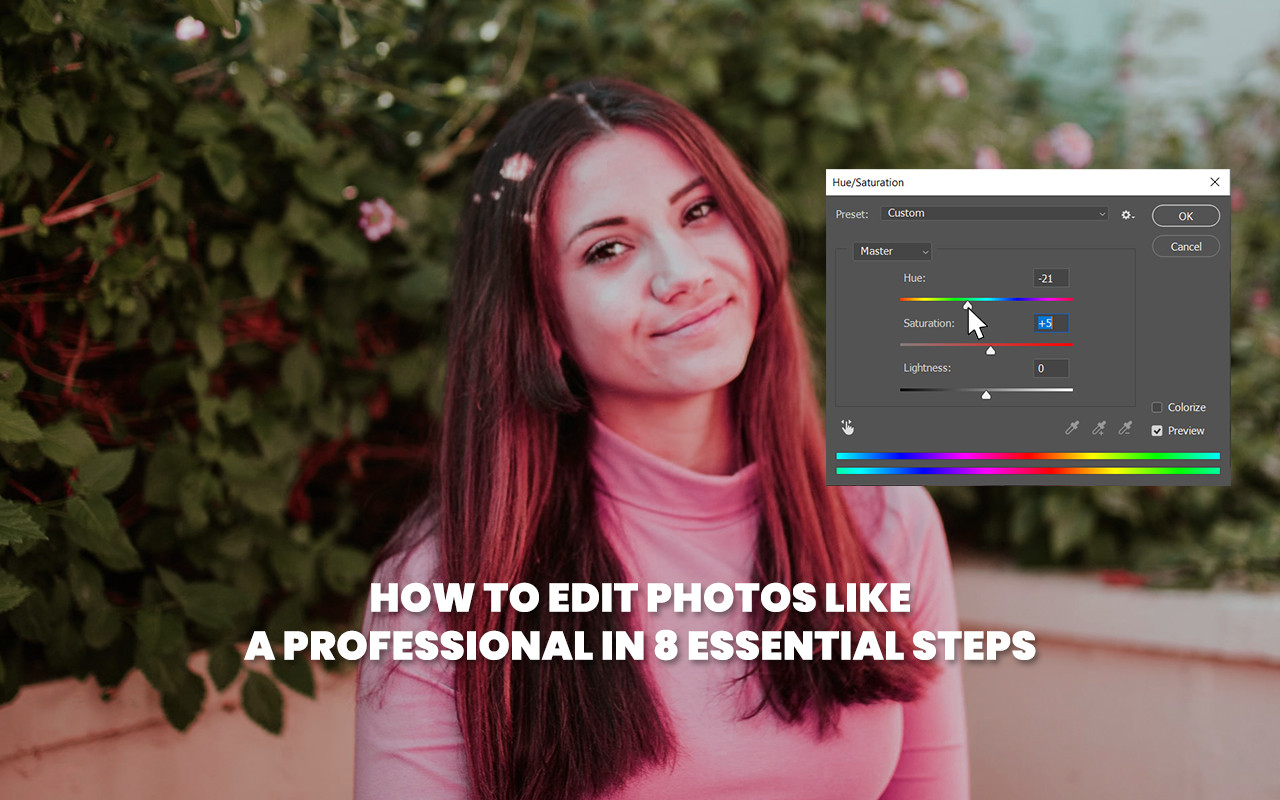 Starting in photography can be exciting and thrilling. Yet, once the photos are snapped, you may feel overwhelmed when editing them. However, mastering photography editing can be manageable. Preparing for a successful photography shoot can be just as enjoyable and rewarding as when you are ready to snap your photos. It can be the defining element of a photograph - either making it, breaking it, or saving it. Want to learn how to edit pictures like a pro? Follow these eight straightforward steps to make the experience creative, simple, and delightfully rewarding!
Choose Your Editing Program
Regarding photo editing, the initial step is choosing a program that fits your needs and preferences. You likely have your favorite software if you're already a photo-editing pro. Are you aspiring to become a photo editing pro? Here are some things that you have to keep in your mind!
When selecting photography editing software, it is essential to consider your skill in the field and what type of features you are searching for.
If you're a beginner in the photography world and have just begun manually editing your photos, don't be afraid to explore user-friendly applications on your computer and phone.
VSCO, Snapseed, and Afterlight have user-friendly interfaces that simplify basic photo editing. Moment's excellent tutorial explains how to use VSCO and Afterlight for the perfect edit – it's a must-watch!
As you have witnessed, the iPhone offers numerous ways to enhance your photos. But if you genuinely wish to modify and retouch like a pro, consider utilizing some of the programs industry professionals use regularly.
Adobe Lightroom and Photoshop have become essential to professional photographers with their innumerable editing options. It has indisputably established itself as the go-to software for photography enthusiasts due to its user-friendly interface and comprehensive features.
In this video, renowned Youtuber and photographer Peter McKinnon illustrate why Adobe Lightroom is essential for every photographer.
If you're a beginner, Adobe Lightroom is an excellent editing platform - however, it's also worth exploring what other software alternatives have in store for you. Recently, advanced and powerful software such as Capture One and Luminar has become popular.
It is essential to carefully select your software, as the more you use it, the better and faster you can learn how to operate its interface. Ultimately, this will result in quicker and higher-quality photo editing. No matter the editing program you opt for, there are a few essential stages to remember when enhancing most images.
Read also this article: https://thecompellingimage.com/blog/how-to-develop-your-photography-skills
Crop And Straighten Your Image
Once you select and upload your photo into the editing software, take the first step to refine it: crop and straighten!
Rectifying any composition issues can be accomplished with a simple crop. Cropping offers the perfect remedy for these imperfections if you have taken your photo too widely, crookedly, or even at an unexpected angle.
Cropping can help you attain a visually balanced look or an exact frame layout. Photographer Thomas Heaton's video reveals the power behind cropping, particularly when capturing landscapes. Look at how and why this editing tool can be so compelling!
When it comes to cropping an image, knowing the resolution is critical! Beware of excessive cropping, as this often results in a loss of quality.
Remove Any Unwanted Elements
To achieve the desired outcome, eliminate any unwanted elements from your image. Whether you need to capture an expansive cloud or a single, errant hair in portrait photography, this solution ideally includes more prominent features and enables precision with more minor details.
This step is optional but recommended if you need more advanced photo editing options. If you desire to become a master photo editor, honing this step is essential.
Adobe Lightroom's "Spot Removal" tool makes refining a photo and eliminating features such as blemishes fast and easy.
If you want to remove a larger object, such as an individual, cloud, or airplane, from a detailed image, Photoshop is your best bet. If you want to erase anything from a photograph in Photoshop, here are three techniques that can help.
After you have removed anything distracting from your image, it is time to begin polishing the different qualities of the picture.
Read also this article: https://thecompellingimage.com/blog/beginners-guide-black-white-photography
Correct White Balance
An image's white balance is the harmonious combination of colors and lighting to ensure a balanced color temperature in each shot. When capturing a picture, an image's white balance can occasionally be too much on the warm or cool side.
To fine-tune this, locate the adjustments for color temperature and Tint. Temperature is an alteration in blue and orange tones on the entire Color Spectrum. With Tint, you can modify the color range of green and magenta to attain a precise white balance for your photo.
If you're in a hurry, some automated white balance correction tools enable you to select the light quality you have used. Although this is convenient, it may only sometimes be precise.
As you hone your photo editing skills, practice adjusting the temperature and Tint of images to develop a keen eye for post-production.
Correct Exposure
Capturing a beautiful photo can be quickly ruined when the exposure is off. But never fear; there are simple ways to edit overexposed or underexposed images! With some simple editing, you can quickly fix that issue. Check out the various tools designed to correct exposure; many apps and software programs include an "Exposure" or "Brightness" feature, which instantly adjusts your picture's light levels.
You can obtain optimum image brightness by making precise adjustments to the exposure triangle settings. While most of your photography will be improved with these alterations, some sections may become too bright or dark.
To address these areas, tweak the shadow and highlight settings to vary the brightness of those parts. Unlock the hidden potential in your photos today with this short tutorial video on how to use adjustment settings to get the perfect exposure.
By changing the lighting of your image, you are manipulating its shadows and highlights to obtain the desired outcome. Not only does this automatically adjust the contrast of your photos, but additional tools are also available to alter the image's contrast according to your preference.
Adjust Contrast
Contrast alteration offers a range of possibilities. By boosting contrast, photos can look more vibrant or intense; alternatively, reducing it may bring about an antique aesthetic similar to classic film photographs.
Tweak the contrast setting to develop the effect you desire. Move around with the slider and explore what style complements your image more!
Boost or diminish contrast in your photograph with the advanced technique of tone curves for a comprehensive editing experience. Don't be intimidated by tonal curves! This video from Signature Edits shows you how to use them in Lightroom in a simple and easy-to-understand way.
To summarize, tonal curves are an efficient way to adjust and modify the brightness of particular areas in your photograph. Furthermore, they can change contrast selectively on any part of the image without affecting other regions.
Adjust Colors
Now that you have mastered exposure and contrast let's move on to color. Adjusting the intensity of your image will bring out its proper hues and tones.
By adjusting the vibrancy and saturation of an image, you can alter its color intensity with remarkable precision. While they differ in the colors they deepen, having a fundamental comprehension of color theory will assist you in deciding how to use it to narrate your story.
In summary, saturation amplifies the strength of all colors in an image, and vibrancy strengthens muted hues while preserving flesh tones.
Suppose you wish to modify the actual hue of an image and use color theory in your shot. In that case, HSL adjustments (hue, saturation, and lightness) and selective color adjustments are precisely what you need.
When altering the hues of your photograph, remember to ensure you are editing it on a monitor with accurate colors and high resolution. Apple products are renowned for their "True Tone" setting, guaranteeing that the colors you manipulate on your iPhone or Macbook will vividly and accurately represent. Moreover, to ensure a positive user experience with other devices, pay close attention to their monitor or LCD screen quality.
Read also this article: https://thecompellingimage.com/blog/best-photography-ideas-for-beginners
Sharpen Your Image
After you've perfected your image's composition, brightness, contrast, and hue to your satisfaction, it's time to hone in on sharpening the details.
This is the ultimate method to edit your photos for improved photographic prints or sharpening those soft images. Editing the sharpness of your pictures often involves using sliders labeled "Sharpness," "Structure," or "Detail." In Lightroom, it is known as "Clarity."
Modifying any of these will refine the textures of an image, bringing out its finest details. After carefully considering all the facts, you may use this editing portion at your discretion. Use it judiciously, as too much can make an image look unnatural and overly detailed.
Editing photos like a professional can be an enjoyable and satisfying experience that expands your photography skills. Although all the strategies and advice listed above are essential parts of this process, it's genuinely about honing your eye and creating a style to help you capture breathtaking photos. The best way to do that is through practice!
Editing In Capture One
Enhancing photographs has never been more accessible - thanks to programs such as Photoshop and Lightroom! Get ready for our next post, where we explore the fantastic opportunities available with Capture One! Let's explore the specifications, features, and tricks of utilizing photography editing fully.
Frequently Asked Questions (FAQs)
Check out the most frequent questions regarding Edit Photos Like a Professional.
Q. What Are The 5 Basics Of Photo Editing?
Ans. Take your imagination to the next level with a few simple editing techniques! Start by cropping and cleaning up your images. Adjust white balance, exposure, contrast, color vibrancy, and saturation for maximum impact. Finally, apply the finishing touches before sharing them with the world - you'll be amazed at how great they look!
Q. What Are The 7 Elements Of Photography?
Ans. As a photographic artist, it is essential to recognize the seven fundamental components of art to create compelling compositions - line, shape, form, texture, color, size, and depth. By understanding these elements and how they work together within your photographs, you can effectively express their meaning and message.
Q. Which App is Best For Photo Editing?
Ans. Are you looking to take your photo editing skills to the next level? Check out some top-rated apps like PhotoDirector, YouCam Perfect, Pixlr, PicsArt, and Snapseed. Each one offers a range of features designed for perfecting photos in no time.