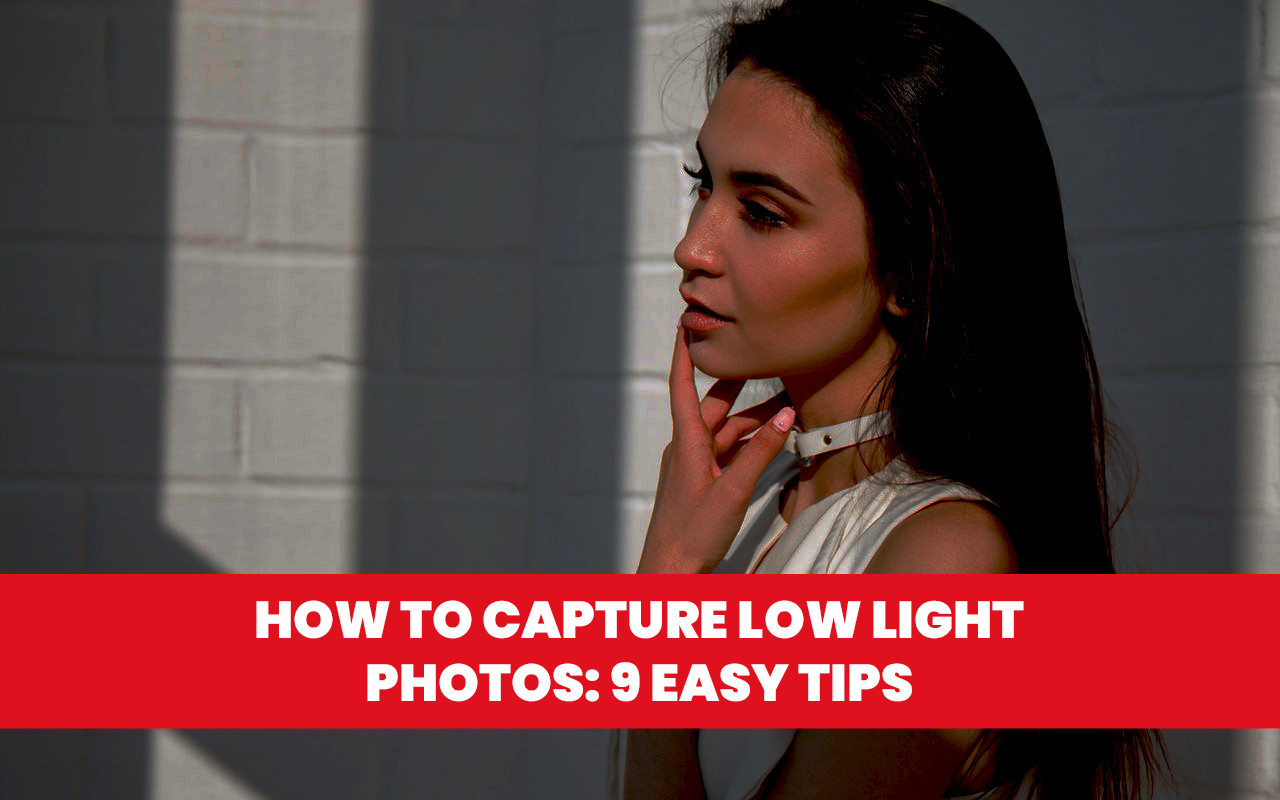 For all photographers, the capacity to capture beautiful photos in low light is essential. But not even dimly lit, overcast skies or windowless rooms will be able to stand in your way if you have these helpful tips!
Take Great Low-Light Photographs With These 9 Tips
It's all too common for photographers to struggle with inadequate lighting scenarios: weddings illuminated solely by candles, newborn pictures taken in dimly-lit hospital rooms, or even portrait sessions conducted inside a dark home without any natural light.
As an in-home newborn photographer, I recall feeling anxious about the lighting opportunities that a client's home would provide. Would dark wooden panels cover every wall? A cute nursery painted navy with barely any windows to let natural light through? If it happened to rain on the day of my photo shoot, I could almost feel a sense of dread coursing through me.
If you break out in a cold sweat while trying to take pictures in unknown environments without control over the light, rest assured that you are not alone. After all, lighting is central to taking great photographs! With the low-light photography tips I'm sharing here and lots of practice, you'll take low-light pictures quickly. You might find that you even enjoy it!
With Good Light, You Have A Good Image!
For most photographers, our signature style lies in harnessing and bending the light. Some opt for dark, mysterious shots, while others prefer a more feathery vibe - many of us stand on that middle ground.
The key is to remember that low light is okay light!
You can still capture amazing low-light images as sunset fades, in a dark room with a single light source, or not much light reaching the sensor.
#1: First Things First: Find The Available Light
Low-light photography doesn't mean you have to take pictures in the darkness, but rather that you'll need to be resourceful and utilize the available lighting.
If you work in a space without windows or blinds, consider repositioning your subject next to an open door or brighter hallway. This will help ensure you get the ideal lighting for your photos.
Take photos in unorthodox locations if the light is right. Take advantage of even small spaces like an alcove or forgotten area of a room to create incredible results with your subject and lighting! Where artful composition comes into play, these unexpected low-light photography difficulties can create stunning visuals.
If natural light isn't entirely cutting it, feel free to turn on the nearest lamp and adjust your photos accordingly when editing. This is a simple way to eliminate any orange or yellow hues from your image! To get the best results, ensure your subject is close to the light; however, avoid placing them in front of it unless you intentionally create a silhouette.
Read this article: https://thecompellingimage.com/blog/how-to-use-light-in-photography
Encouragement For Natural Light Photographers
As a natural light photographer, I understand that utilizing artificial lighting can seem intimidating. Natural light is not only more flattering but also makes post-processing much simpler. My Camera has had to work hard in dimly lit rooms since I was determined to avoid any yellow tones by avoiding switching on the lights and editing them later with Light Room.
Ultimately, avoid becoming so attached to exclusively using natural light for photography that you miss out on amazing images made with artificial lighting. Not only will that stress you out at the moment, but it may also lead to longer editing times post-shoot!
Feel free to abandon your limits occasionally - it doesn't mean you're any less gifted in photography.
#2: Shoot In RAW And Manual Mode
For the best quality and most vibrant photos, ensure your Camera is set to shoot in RAW. This way, you'll always have a stunning shot - no matter how dark or light the environment may be.
Unleash your creativity and fully control low-light photography by manually changing the shutter speed, aperture, and ISO to get the perfect shot.
In manual shooting mode, you can slightly overexpose your images - even in darker or low-light conditions - to ensure the final product's noise and grain-free version.
#3: Increase Your ISO
Adjusting your Camera's ISO setting is the first change if you struggle with limited light sources. This determines how sensitive your device is toward the light. On a sunny day, this should be set at around 200; however, if you're indoors and it's cloudy outside, bump it up to 800 or higher, depending on how much darkness there is.
Aim to keep your ISO setting as low as possible to achieve a crisp and clear image. If the value is too high, you will have overexposed photos that may prove difficult (or impossible) to restore during post-processing.
To shoot sharper images with minimal noise, pick an ISO setting that accurately captures the surrounding light. If you opt for a higher ISO than necessary, undesired grain or noise will appear in your photos. So keep it low and take crisp pictures every time!
#4: Lower Your Shutter Speed
Experiment with reducing your shutter speed if you're photographing a static subject. Prolonged exposure will create an influx of light, but remember that the faster your focus moves, the quicker your shutter needs to be - usually at 1/125" or higher.
When planning for a family session with young, energetic kids, a slow shutter speed is not an ideal solution if you want crisp images. That said, it's still possible to use slower speeds when the subjects mostly stand still.
Generally, one should strive to keep their shutter speed at least 1/60" unless using a tripod. A great way to remember this is by making sure that the focal length and slow shutter speed align; for example, if you're shooting with your 200mm lens, then ensure that the target shutter speed isn't any slower than 1/200". The same goes for an 80mm lens where it shouldn't be less than 1/80".
If you often face the issue of camera shake or motion blur, testing out different shutter speeds may be a great solution. Experiment until you find the best one for your needs! Whether it's an unsteady hand or a bulky lens, Camera shake, and blurred images are often the result of many factors. Consequently, Camera shakes and motion blur may be unrelated to the minimal lighting conditions you're shooting in. Understand the advantages of using slower shutter speeds when shooting handheld to avoid camera shake, motion blur, and blurry images while still getting the correct light exposure by adjusting your ISO and aperture.
Read this article: https://thecompellingimage.com/blog/best-ways-to-improve-your-photography-skills
#5: Adjust Your Aperture
If you're in search of a faster shutter speed yet simultaneously require more light, adjusting your aperture is the way to go. When your shutter speed increases and the gap increases, less light enters the Camera. For example, when capturing a group of people in one photo where clarity is vital, an ideal aperture would be f/5.6.
When the lighting is not ideal, a higher aperture like f/1.8 will allow you to work with little light while still producing creamy and stunning bokeh effects.
Remember that reducing the aperture to something like f/1.8 makes it harder to focus accurately. To optimize your low light situation, I suggest matching the ideal ISO and aperture settings with an appropriate shutter speed for the best results.
#6: Off-Camera Lighting Solutions
My first Camera needed to be equipped to adapt to darker settings - especially hospital rooms, making Fresh 48 sessions particularly tricky. If my client desired a dark atmosphere or refused to open the blinds, I was forced to present images with little color saturation.
I invested in a Speed-light (a flash Nikon that can be used on or off-camera) to improve my skills and accommodate any situation without worrying. This allowed me to bounce light off ceilings or walls for stunning results quickly.
For any photographer who shoots indoors, having the aptitude to employ external lighting is essential because you can find yourself in a low-light setting without it. Exterior lights prove invaluable when natural or artificial light sources are scarce.
This is superior to the pop-up flash on your Camera, as you can get a far more natural effect.
Replicating the way sunlight enters a room through a window, bouncing your Speed light flash can provide an elegant and natural illumination to your subject. Unlike pop-up moments that cast harsh shadows or cause red eyes in photos, reflected light gently brightens up any scene with its graceful radiance.
Cranking up your ISO or slowing down your shutter speed will diminish the need for overly bright flash, allowing you to snap stunningly realistic pictures.
#7: Light-room Magic: The Luminance Slider
If you're unsatisfied by the grainy texture of your pictures when pulled into Light-room, try using the luminance slider to create a magical transformation.
The Noise Reduction section is at the bottom of the Develop module. The initial slider manages luminance, eliminating grain and reducing noise intensity for a superior outcome.
Be mindful of sparingly doing it on the luminance slider; this could lead to a lack of sharpness in your images.
#8: Convert To Black & White
With the proper camera settings, you can prepare for low-light photography situations, yet sometimes even that won't translate into perfectly exposed images.
If a blemish appears, try transforming the image to black and white for more depth. You won't detect the imperfection as much, which may bring out an even lovelier photo--especially in dim lighting! Black and white images also accentuate shadows that could complete your shot with charm.
#9: Getting Comfortable Shooting In Low Light Situations
If you are a family photographer who exclusively books golden hour sessions, low-light photography may be outside your list of worries!
Conversely, if you specialize in photography for weddings, families, seniors, headshots, engagements, or newborns - and any other enjoyable projects- you will ultimately be in dim lighting conditions.
Wrapping Up.....
To get familiar with low-light photography, challenge yourself to take pictures even when the lighting isn't ideal or predictable. It would help if you practiced persistently to learn which combinations of ISO, aperture, and shutter speed on your Camera yield the best results. With enough repetition, you may go beyond just liking easy light; you will relish mastering this complex technique!
As photographers, the more flexible we are in any situation, the better. Forget about stressing out to find that ideal light for your Camera, and start embracing telling meaningful stories regardless of what kind of lighting you have!
Frequently Asked Questions (FAQs)
Here is a Collection of Users' Most Popular Questions About How to Take Low Light Photos. So, Let's Dive in and Explore!
Q. How Do I Take Better Pictures In Low Light?
Ans. Unlocking the Secrets of Low-Light Photography: 7 Proven Strategies to Capture Stunning Images in Limited Lighting.
Set your Camera to a Wide Aperture (Low f-number) to allow the maximum amount of light.
Boost the ISO to Increase your Light-sensitivity for Brighter, Clearer Images.
Obtaining Maximum Clarity for your Images.
Maximize the Potential of White Balance Settings to Achieve your Desired Outcome.
Utilizing the Power of Light to Create Stunning Effects.
Unleash your Creativity with Burst Mode.
Best Cameras for Low-light Photography.
Q. Is F3 5 Good For Low Light?
Ans. For Optimal Results in Low-light Photography, Utilize an Aperture Priority or Manual Mode Setting with your Kit Lens and Set the Widest Available Aperture of f/3.5. Note that Zooming into Shots will inevitably reduce this to a Minimum of f/5.6 at 55mm; thus, it is best to avoid doing so when possible.
Q. What Is Low Light Photography?
Ans. Low-light photography encompasses any situation in which the available ambient light is limited. From being indoors to a dimly lit street late at night or even photographing on an overcast day- if there's not much natural lighting present, then you're dealing with low light conditions.