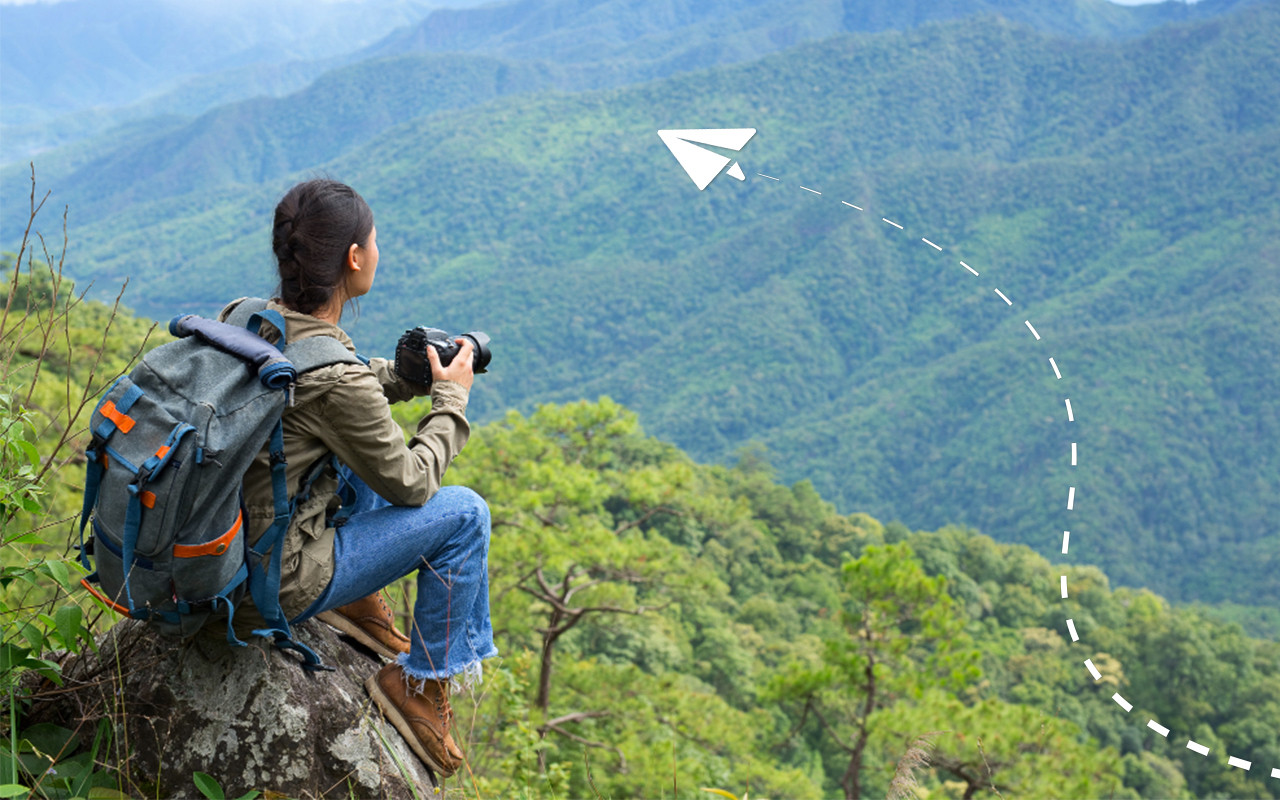 If you want to become a skilled travel photographer, look no further - you've come to the right spot!
A simple 4-step process on how to become a travel photographer.
To assist those eager to begin a journey in travel photography, I have crafted an informative guide outlining what worked for me when starting. This tactic has been successful for many years, and I am excited to share it.
Before considering a trip to South Asia, aspiring travel photographers should think twice; you will likely squander your time and money with little success. Avoid heartache by looking elsewhere for memorable photos!
Begin small and expand from there.
Step 1: Testing Ground
Identify a park nearby and make it your go-to spot for taking pictures. It should be within walking or driving distance to make the most of your equipment tests and photo shoots.
Exploring an urban park is a great way to experience travel photography, with gorgeous landscapes, stunning cityscapes, and the opportunity to capture people in their natural environment.
Maximize your experience while exploring by scheduling visits throughout various times of the day. Understand how to handle tough sunlight, cloudy days, rain showers, sunsets, and early morning light to achieve ambitious results with the minimal gear needed for travel photography.
At the start of my photography journey, I realized minimalistic shooting was best for me. As such, I only need a camera with a walk-around lens, which has worked for years with Canon 60D + Sigma 17-70mm and now Sony a6000+ Sony 16-70mm combo.
Although I have the luxury of owning numerous gadgets such as a Sony 10-18mm wide angle lens, tripod, filters, and remote triggers at my disposal, if necessary, I can go on an extensive excursion with just one camera plus lens.
Fortunately, I have a breathtaking park within easy walking distance of my home. Whenever I get new equipment, the local park is where I take it out to test and learn - like when I switched from Canon to Sony. It was an adjustment, but the idyllic surroundings of the nearby park made putting on my new gear a lot easier!
Read Also: https://thecompellingimage.com/blog/Low-Light-Photography-Tip
Step 2: Mini Simulation
To further hone your photography skills, the next step is to embark on a day-long excursion within 1-2 hours of where you live. We all know national and provincial parks near our homes make ideal photo spots for short trips. For example, living in Montreal means I have countless options - from sprawling forests to majestic mountains!
Immerse yourself in a day-long journey away from the comforts of home and begin to put your micro-planning capabilities and skills to the test.
To get the most out of your trip, plan for a sunset or sunrise experience. It can be challenging to do both in a short visit, so select one and research spots that will give you the best results. Utilize Google Search and Maps and 500px to identify an ideal location for capturing stunning twilight scenes!
Additionally, you'll need to determine the number of camera batteries to bring with you and if any additional memory cards are required. If your vacation involves intense hiking, skipping the tripod is wise.
On these trips, photographers can make mistakes and learn from them. Each new journey provides a chance for growth regarding planning, equipment management, and developing better habits.
Once you become adept at day trips, climbing the next step and trying multi-day excursions is time.
Step 3: Multi-Day Driving Trips
This is where my true journey with travel photography began.
Kickstarting my photography journey, I began with 2 to 3 days of drives to Montreal and the surrounding cities such as New York, Boston, and Toronto - all within a 5–7-hour radius from Niagara Falls.
When embarking on multi-day trips, it is always imperative to thoroughly research and plan your every move: from sunrises to sunsets and all the adventures in between.
Another problem you must confront on your travels is efficiently managing editing and backups.
With my experience, I know how unpredictable travel routines can be. Therefore, I want to make sure you have a smooth scenario that may work long-term.
Once the day ends, I have a strict backup routine that ensures all of my new photos are fully secured in two different places. One external hard drive is at arm's reach inside my bag, and another is safely away, either in the hotel safe or car trunk. This way, I can guarantee added security to my precious memories from each trip!
Rather than hastily formatting my memory cards, I wait until they are full before starting the process. This helps to ensure that no photos go missing or get deleted inadvertently.
With a driving trip, the blessings are sizable. You don't have to be too fussy about what you bring with you—pack your trunk full of all necessary for photography and after assessing which items are essential depending on the style of shots you prefer!
Read Also: https://thecompellingimage.com/blog/wide-angle-lens-in-photography.
Step 4: Hacking Family Vacation
Transform your family vacation experience with a few simple hacks!
To ensure that your vacation is enjoyable, it's essential to be aware of others and practice caution during the voyage. Otherwise, you could end up irritating your family or compromising their enjoyment.
A family vacation offers an ideal time to try your air travel strategies. To guarantee a successful journey, it is essential to research the carry-on allowance regulations during each part of your trip and decide what equipment to bring.
After my family vacation to Cuba and realizing I had brought too much hardly used equipment, I began preparing differently. Now, with the switch from DSLR cameras to Mirrorless models, everything fits neatly within a carry-on bag, so there is no longer any fear of lost luggage!
Ready to begin planning your voyage? Let's get started!
Start by scheduling your vacation as usual and focus primarily on entertaining, family-friendly activities. When all group members are content, you can elevate your trip with incredible photography opportunities!
Unlock the hidden beauty of vacationing destinations by dedicating your time to photography while everyone else is asleep! At sunrise, before most tourists are awake, you can enjoy Venice and other locations without the hustle and bustle of large crowds. It's a once-in-a-lifetime experience--a completely different atmosphere that will take your breath away with its peacefulness and captivating scenes. Use these few hours between sunrise and breakfast for optimal picture-taking opportunities!
Last summer, my wife and I decided to escape city life for a weekend getaway to Niagara Falls. During the day, it was bustling; there were so many people around that I couldn't even set up my tripod! Taking pictures without having someone in the frame became an arduous task. But when we arrived at sunrise on our second morning, what transpired next was astounding: not only did we have this breathtaking view completely all alone, but we also ran into another photographer who had come up with the same idea - capture its beauty as soon as possible before anyone else arrives.
Achieve your dream of combining a family vacation and photography by meticulously planning for every sunrise in advance. The rest of the time will be devoted to purely familial activities, making it more challenging to organize as you go along. Find solace in knowing that while having fun with your loved ones, you can also capture priceless moments through photography.
After you have spent a considerable amount of time on short and local trips and family vacations, you can take dedicated photography excursions. Doing so will significantly develop your skillsets and routines for being comfortable and safe during travel, preparing you for any future adventure!
Conclusion
To understand any intricate process comprehensively, you must break it down into smaller steps that can be easily grasped and implemented. Travel photography is no exception to this rule; one cannot become an expert photographer in a single day – instead, by starting small, your skillset will slowly accrue while developing personalized routines along the way.
My step-by-step approach is designed to help you pursue your ambition of becoming a travel photographer and speed up the learning process.
Frequently Asked Questions
1. How to sell travel photos?
Selling your travel photos is easier than you think. Here's how to do it!
Make Money Selling Your Travel Photos to a Stock Agency. Uploading your breathtaking, high-resolution images onto the stock agency's website is an easy way to make extra money while traveling! With minimal effort and no financial risk, you could potentially turn your travels into lucrative success. So, what are you waiting for? Start selling those pictures now!

Monetize Your Photos & Get Published in Travel Magazines.
Get Paid to Photograph Campsites.
Sell Prints or Novelty Items.
2. What is the purpose of travel photography?
Importance of Travel Photography
Travel photography is an opportunity to improve the world by providing people with glimpses of other cultures, traditions, and customs that they would not otherwise know about. By sharing our images, we can teach others what lies beyond their reality; it's incredible how travel photographs can open up someone's eyes to all the wonderful experiences in this beautiful world!
3. What are the seven elements of photography?
A photographic artist's familiarity and appreciation of the essential components - line, shape, form, texture, color, size, and depth - are paramount for creating a successful composition that conveys their artistry. These elements are essential building blocks for any photographer to express their ideas through visual imagery.
4. What type of photography is travel photography?
Photograph your travels with travel photography! Capture the stunning locations you discover and portray all of your unforgettable adventures. This type of photography incorporates a variety of genres, such as landscape, street, portrait, environmental portrait, and even architecture. Try it out for yourself to share memories that will last a lifetime!
5. How do I start as a travel photographer?
Travel, Shoot and Sell: How to Become a Travel Photographer
Set your photography goals.
Take a photography course.
Complete an internship.
Find your travel photography niche.
Always have a camera.
Practice.
Study other travel photographers.
Travel.