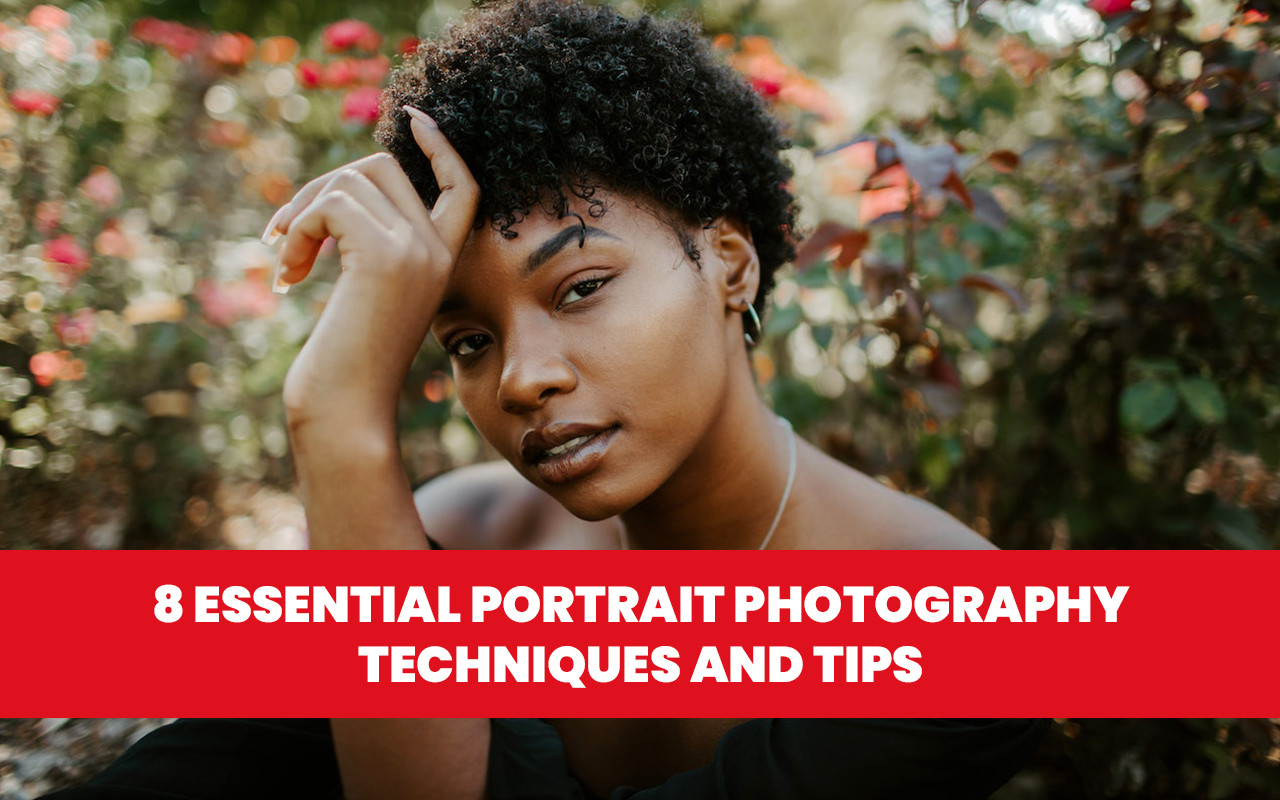 Portrait photography encompasses many styles, from stark black-and-white images to ethereal shots with blurred backgrounds. Achieving these effects requires skillful camera work, an intuitive understanding of the subject, and a solid creative vision to combine all the elements distinctively and memorably.
About Portrait Photography
Portrait photography refers to a type of photography that involves capturing images of human subjects. Portrait photography emerged as an art form in the early days of photography when Louis Daguerre invented the daguerreotype in 1839. That same year, Robert Cornelius took what is considered the first-ever self-portrait photograph or "selfie," which laid the foundation for the development of portrait photography.
What Are The Different Types Of Portrait Photography?
Exploring portrait photography can be exciting as there are various types available. However, the three main types of portrait photos and their objectives are listed below.
Standard Posed Portrait
This type of portrait photography involves the subject being conscious of the camera and typically looking directly at the camera lens.
Typically, this style of portrait photography focuses on the subject's head and shoulders, accentuating their facial expressions rather than featuring their entire body.
Typically, photographers shoot in a studio and use formal backdrops when taking traditional posed portraits.
Candid or Anonymous Portraits
This type of portrait captures the subject candidly without their knowledge of being photographed. As these interactions are not typically arranged beforehand, posing is not included, nor is eye contact customarily made.
These portraits provide a one-of-a-kind perspective into the subject's genuine and unfiltered emotions. Portrait shots of this type are often regarded as a simple and unmodified form of portrait photography.
The main objective of this style of portrait photography is to capture unplanned moments. Street photographers often take pictures of people on the street without prior arrangement, which explains why it is a common practice.
Attention to the subtle details and connections between the background surroundings and the subject is crucial to capture a fantastic candid portrait photo.
This type of portrait often captures and tells the story between the subject and their surroundings, which is the best thing about it.
Creative or Conceptual Portraits
Among all categories of portrait photography, this particular one offers the highest degree of artistic liberty. The primary purpose of creating these portraits is to convey a concept. Through a form of abstract representation, you are producing images.
If you enjoy capturing profound and aesthetically pleasing messages in your portrait photography, you should explore the realm of creative fine art portrait photography further.
8 Portrait Photography Tips - A Complete Solution
With a DSLR or mirrorless digital camera, you can adjust various elements of your photo's composition. You can adjust the ISO and exposure compensation or change the shutter speed based on the type of portrait you are taking after you have learned how to use your camera. You can change the depth of field to improve the clarity of your model's facial features and make the background blur. Alternatively, you can opt for a more comprehensive depth of field using a wide-angle lens to capture a more comprehensive portrait.
Here are some photography techniques that can help you improve your shots and transform your good portraits into great ones:
1. Diffuse Your Light Source
For portraits, choosing an environment with soft, indirect natural light is best. Solid and direct sunlight can cause unwanted shadows or alter the appearance of skin colour. Consider using a diffuser such as a softbox or white sheet to create more gentle lighting and enhance appearance.
2. Use A Longer Lens
The 50mm lens is a popular choice for portrait photographers as it is a mid-range telephoto lens with a standard length. Using a longer lens, such as one in the 85mm to 200mm range, can improve image compression without distorting the pixels, resulting in a more exciting and unique scene than the current length produces. Using a longer focal length in your camera can bring the background closer to your subject, resulting in more bokeh (background blur) and a more dynamic image.
3. Find A Different Position
To make your photos look more unique:
Try changing the composition by not strictly following the rule of thirds.

Experiment with shooting from different angles, including your subject's eye level.

Experiment with capturing photos of your model from various angles and distances.
To find the best angle for your portrait, you can take pictures from above, from the side, and experiment with different poses, including candid shots.
4. Bring Your Lighting
While the camera flash is necessary to illuminate your photos, it may only sometimes offer the ideal light. Using flash, especially in a close-up headshot, can cause the subject's face to look washed out and distorted. Using off-camera flash can improve your portrait's lighting by increasing contrast and controlling shadows, resulting in a more visually exciting and dynamic image. Although natural light benefits outdoor pictures, direct sunlight can sometimes be too intense. To create a perfectly lit shot, you can use external strobe lighting to reduce the impact of the available light and add your lighting.
5. Alter The Aperture
A wide aperture will produce a shallow depth of field, blurring the background and making your subject the main focus. However, a smaller gap will keep everyone in the direction if you have more than one subject (like a family portrait).
6. Try Props
Shoot through objects in your foreground, like foliage or architecture, for a more dynamic element to your composition. A longer lens can help blur the things in front, centering the focus on your subjects and adding an attractive aesthetic component to your shot. Shooting through transparent objects can produce unique patterns or reflections while shooting through something like a fence can provide interesting framing around your subject. Capture your subject through store windows or between branches for a more dynamic composition.
7. Use Gels
Using gels can modify the mood or adjust the colour temperature of your portraits. If the skin tones in your photos appear abnormal or the colours look odd, it might be necessary to modify the light temperatures during the photoshoot. A CTO gel can be used on an overcast day to make the environment warmer when shooting. If your images appear too yellow or orange, consider using a colour temperature blue (CTB) gel to make it more relaxed. Decide on the desired temperature based on the type of shot you aim to create and adjust your environment accordingly.
8. Finish With Editing And Post-processing.
Using editing software to retouch and enhance your photos can help achieve the desired final look for your scene. Learning how to use editing programs to crop edges, brighten shadows, and adjust backgrounds is essential to improve your portrait photography. With practice, you can take your skills to the next level.
Wrapping Up.........
This article provides tips and techniques for portrait photography to help readers improve their skills. Regularly practicing these tips can make a significant difference in becoming a master of portrait photography. Photographers of any skill level, from novice to professional, can utilize these tips. It is easy to apply and use at any level of photography. Focusing on portrait photography can be an effective technique if you want to improve your photography skills.
Frequently Asked Questions (FAQs)
Some popular questions regarding tips and techniques for portrait photography are listed below.
Q. What Techniques Are Used In A Portrait?
Ans. Here are some photography techniques that can help you improve your portraits and transform them from good to great.
Diffuse Your Light Source.

Use A Longer Lens.

Find A Different Position.

Bring Your Lighting.

Alter The Aperture.

Try Props.

Use Gels.

Finish With Editing And Post-processing.
Q. What Are The Essential Elements Of Portrait Photography?
Ans. To summarize, a good portrait consists of 5 essential elements: location, lighting, composition, emotion, and technical settings. Achieving excellence in all these elements results in a great picture, while shortcomings can negatively impact the portrait's quality.
Q. What Are The 4 Types Of Portraits?
Ans. To clarify, in portrait photography, there are four main approaches: Constructionist, Candid, Environmental, and Creative.
Q. What Are 3 Types Of Portrait Photography?
Ans. Exploring portrait photography can be overwhelming, but there are three main types of portraits and specific goals for each class.
The Standard Posed Portrait.

Candid or Anonymous Portraits.

Creative or Conceptual Portraits.
Q. What Is The Main Focus Of A Portrait?
Ans. Kimberly S. Portraiture's book "Colours and Light" discusses how portraits can convey a person's essence. Sometimes, a picture may exclude the person and instead centre on their belongings or surroundings.