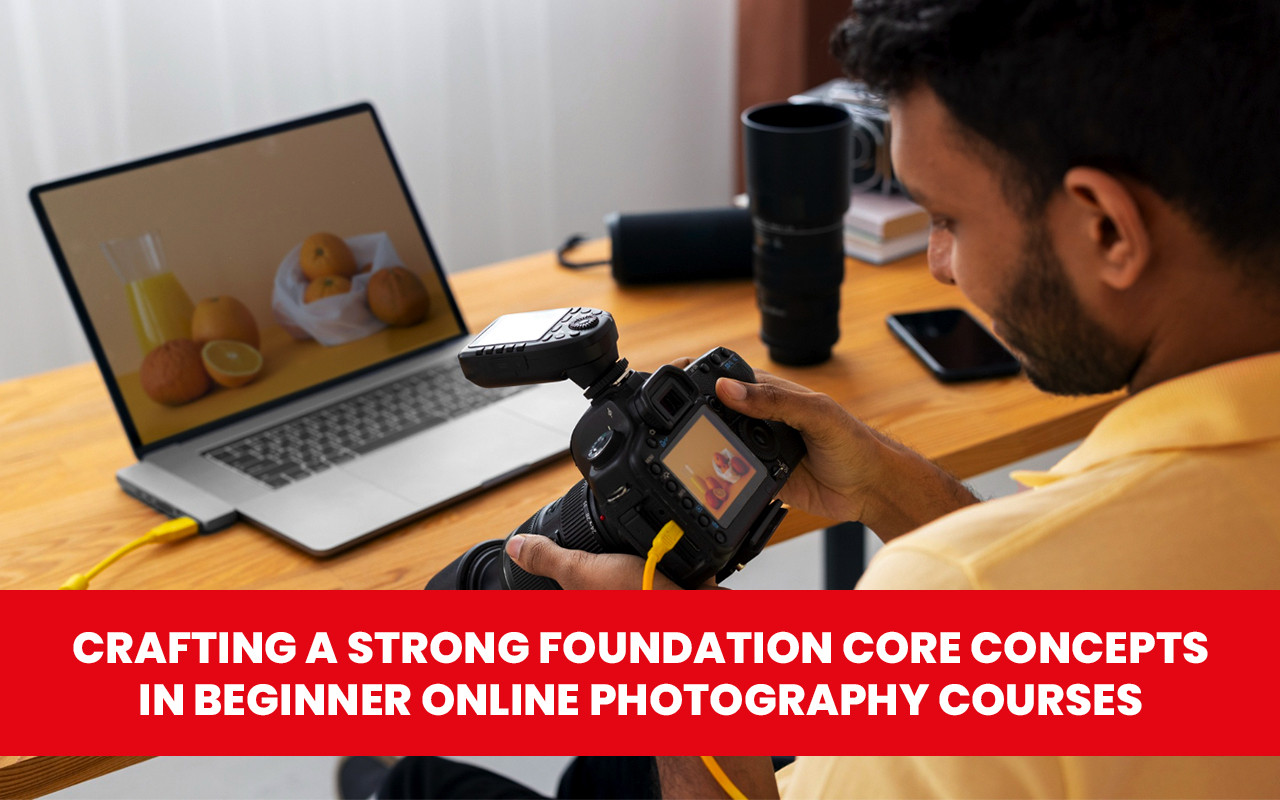 Photography, a medium that freezes moments in time and encapsulates emotions, has fascinated individuals for generations. Whether you're capturing the sun setting over a serene landscape or the laughter shared between friends, photography empowers us to tell stories through imagery. If you're taking your first steps into photography, you're embarking on a journey that promises creative fulfillment and visual expression. As a beginner, one of the most effective ways to ensure your success is by enrolling in online photography courses that lay the groundwork for a strong foundation.
Photography courses tailored for beginners in online learning offer an immersive and structured approach to mastering the art. These courses go beyond pointing and shooting, delving into the core concepts that underpin exceptional photography. Let's explore some fundamental principles that form the heart of beginner online photography courses.
Understanding Exposure: The Trifecta of Photography
Exposure forms the basis of every photograph. It's the interplay between three elements: aperture, shutter speed, and ISO. Beginner online photography courses unravel the mysteries of exposure, guiding you through the impact of each component on your images. You'll learn to balance these settings to achieve desired effects – from freezing fast action to creating dreamy motion blur. With a solid understanding of exposure, you'll wield creative control over your camera, bringing your vision to life.
Mastering Composition: The Art of Arrangement
Composition transforms a simple click into a captivating visual story. Online courses for beginners delve into the rule of thirds, leading lines, framing, and other compositional techniques. By mastering these principles, you'll discover how to arrange elements within your frame to create harmonious, visually engaging photographs. From landscapes to portraits, composition guides the viewer's eye and conveys your intended message.
Nailing Focus: Sharpness and Depth of Field
Achieving sharp focus is crucial in photography. Beginner online photography courses provide insights into focus techniques, depth of field, and hyperfocal distance. You'll learn to control which parts of your image are sharp and blurred, allowing you to direct the viewer's attention to your intended subject. These concepts play a pivotal role in enhancing the storytelling aspect of your photographs.
Lighting: The Essence of Photography
Light is the photographer's paintbrush, shaping the mood, texture, and atmosphere of an image. In beginner online photography courses, you'll delve into the different qualities of light – soft, hard, natural, and artificial. You'll learn to identify the best lighting conditions for various genres, such as portrait, landscape, and still-life photography. By mastering lighting techniques, you'll unlock the ability to capture images that evoke emotion and captivate your audience.
Post-Processing: Enhancing Your Vision
In the digital age, post-processing is a vital aspect of photography. Online courses for beginners introduce you to essential editing tools and techniques that help bring your creative vision to life. You'll learn to enhance colors, correct exposure, and refine details, ensuring that your final images mirror your initial intent. Post-processing extends your creative control beyond the camera, allowing you to fine-tune your images and express your unique style.
Putting It All Together: Practical Assignments
The journey of a beginner photographer is not solely about theory. Online photography courses for beginners often include practical assignments encouraging you to apply the concepts you've learned. These assignments challenge you to experiment with various techniques and styles, honing your skills through hands-on experience. Constructive feedback from instructors and peers further accelerates your growth.
Building a Supportive Community: Peer Learning
One of the remarkable aspects of online photography courses is the sense of community they foster. As a beginner, you're not alone in your quest to learn and improve. Engaging with fellow learners provides a platform to share insights, exchange feedback, and draw inspiration from diverse perspectives. Your peers' camaraderie and encouragement can be invaluable as you embark on your photography journey.
In Conclusion
Enrolling in beginner online photography courses is akin to laying the cornerstone of a photography career built on a solid foundation. These courses introduce you to the core concepts that shape exceptional photography and empower you with practical skills. From understanding exposure to mastering composition, these fundamental principles equip you to capture images that resonate with emotion and artistry. As you explore lighting, focus, and post-processing, your creative voice blossoms, setting the stage for a lifelong love affair with photography.
Remember, every masterpiece begins with a single stroke, and every photographic journey starts with a single click. By investing in your photography education through beginner online courses, you invest in your growth as a photographer and storyteller. So, pick up your camera, embark on this exciting voyage of discovery, and craft your unique narrative through the lens.