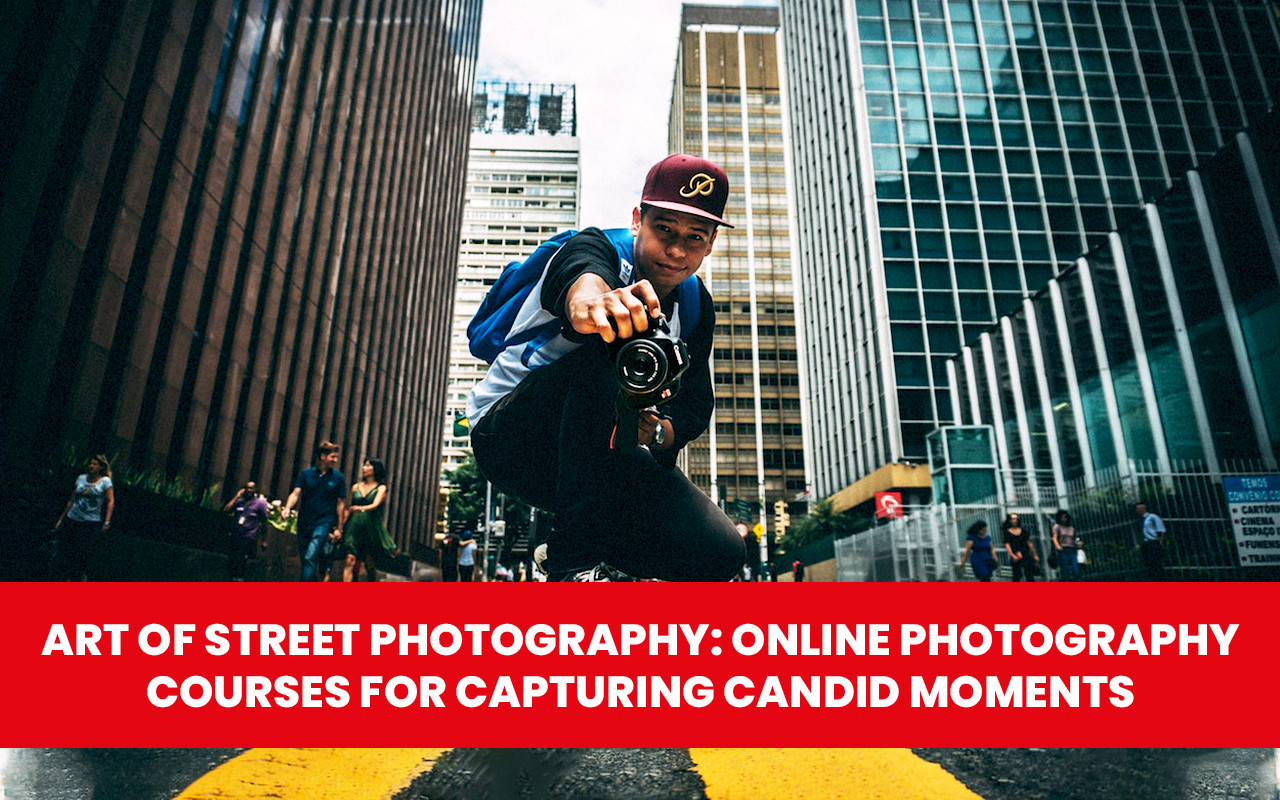 Exploring street photography introduces us to a fascinating world where everyday scenes become extraordinary. Every corner, every fleeting moment, holds potential for a unique and compelling story. To embark on this artistic journey and unravel the secrets of street online photography courses, look no further than online courses. This article provides you to explore the captivating world of street photography. Dive into its essence, learn essential skills, and learn photography online courses to master this mesmerizing craft. Let's embark on this journey together!
Understanding Street Photography
Street photography is about capturing those spontaneous, unposed moments in public spaces. It's about having a sharp eye, fast reflexes, and a good grasp of composition, lighting, and storytelling. Street photographers aim to capture the beauty and drama of everyday life, whether it's a brief expression, a candid interaction, or the exciting contrast of different elements. It is one of the best photography courses available on our site.
Nurturing Vital Skills for Aspiring Street Online Photography Courses
To start from beginners to advanced, we require following skills and objectives to achieve success in street photography courses online.
1. Observational Skills
Being aware of your surroundings and anticipating moments before they happen is crucial. Online courses can help you fine-tune this skill by offering exercises and insights that sharpen your observation abilities.
2. Composition
Composing an engaging and balanced shot in a fast-paced environment can be challenging. Courses often cover composition techniques such as the rule of thirds, leading lines, and framing to help you capture attention-grabbing images.
3. Timing
Street photography is all about capturing the right moment. Courses will teach you how to time your shots perfectly to freeze moments that convey emotion and significance.
4. Approach and Ethics:
Respecting the subjects and the environment you're photographing is essential. Online courses often discuss ethical considerations and provide guidance on approaching strangers for candid shots.
5. Editing and Post-Processing:
Once you've captured your shots, editing plays a crucial role in enhancing the final result. Many courses include lessons on post-processing techniques tailored to street photography.
Recommended Online Courses for Street Photography
Below are some photography courses online available for street photography, so that you can know what is good for you.
1. Street Photography: Capture the Life of Your City
This course offers insights into the technical and creative aspects of street photography. It covers essential topics such as camera settings, composition, storytelling, and editing.
2. The Art of Street Photography
With this course, you'll explore the history and aesthetics of street photography. It provides practical tips for finding subjects, composing shots, and developing your unique style.
3. Candid Street Photography
Learn about candid photography techniques and how to capture the unexpected. This course emphasizes the art of storytelling through images taken on the streets.
4. Street Photography: The Complete Guide
Delve deep into street photography with this comprehensive course. It covers a wide range of topics, including gear selection, composition, and editing.
5. Documentary and Street Photography
Taught by Magnum photographers, this course combines documentary and street photography insights. It covers both technical skills and the conceptual aspects of storytelling.
Wrapping Up……
Embarking on the journey of becoming a skilled street photographer is an exciting endeavor. Online courses offer a structured and convenient way to learn the necessary skills and techniques. Whether you're a beginner or looking to refine your existing skills, these courses can provide the knowledge and inspiration needed to capture compelling moments on the streets. Remember, practice and patience are key, so take the knowledge gained from these courses and hit the streets to refine your craft and create captivating images that tell stories for generations to come.
Frequently Asked Questions (FAQs)
Here are some users' top queries of users related to the Art of street photography online courses.
Q. Do I need an advanced camera to excel in street photography?
Ans. While advanced cameras offer more flexibility, street photography is about capturing moments, not equipment. Many courses address how to make the most of your current gear.
Q. I'm shy about photographing strangers. Will these courses help me overcome this?
Ans. Absolutely. Ethical approaches and tips for approaching subjects are often covered in these courses, giving you the confidence to engage with your surroundings.
Q. Are these courses suitable for beginners with no photography experience?
Ans. Yes, many courses cater to beginners, providing foundational knowledge alongside advanced techniques to help you grow at your own pace.
Q. How can editing enhance my street photographs?
Ans. Editing plays a significant role in refining your images, enhancing colors, adjusting lighting, and bringing out the story you captured. Courses often include editing tutorials.
Q. Will I learn about legal considerations in street photography?
Ans. Yes, many courses touch on legal aspects such as photographing in public spaces, model releases, and respecting individual privacy.