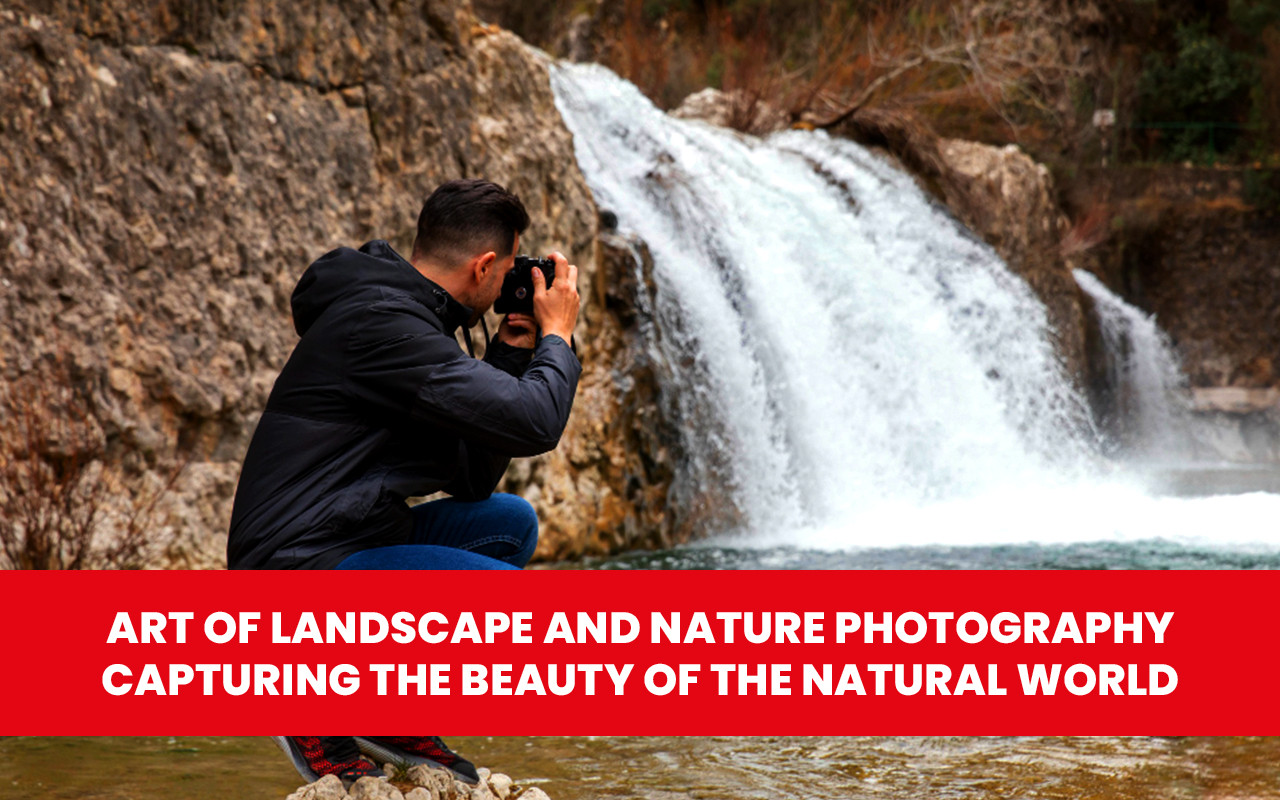 Landscape and nature photography is such a captivating genre that truly celebrates the beauty and wonder of our natural world. It's all about capturing those breathtaking vistas and inviting viewers to connect with Earth's landscapes, ecosystems, and even the little details that often go unnoticed. So, in this article, we're going to dive deep into the art of landscape and nature photography. We'll cover everything from the essence of this art form to the techniques, equipment, and how you can tell compelling visual stories through your lens. Let's get started, shall we?
About Landscape and Nature Photography
Landscape and nature photography is an enchanting art form that captures the breathtaking beauty of the natural world. It goes beyond technical skills, evoking emotions and offering glimpses into pristine landscapes and ecosystems. Through their lenses, photographers weave tales of light, mood, and intricate details, all while fostering environmental consciousness. This genre inspires us to pause, marvel at nature's wonders, and become passionate advocates for its preservation.
The Essence of Landscape and Nature Photography
Landscape and nature photography is so much more than just pointing a camera at a scenic view. It's about capturing the essence of a place, the mood, the play of light and shadows, and the intricate relationships between elements. This incredible genre highlights the grandeur of landscapes, the serenity of forests, the power of oceans, and the delicate beauty of flowers and wildlife. It's truly amazing!
Understanding the Core Elements
Now, let's delve into the fundamental elements of Nature's Photography that are essential to grasp and utilize effectively.
Composition and Framing
Composition is the backbone of any great photograph! The rule of thirds, leading lines, framing, and symmetry are techniques that gracefully guide the viewer's eye through the image. A well-composed photograph creates a captivating visual journey, inviting viewers to joyfully explore every corner of the frame.
Lighting Magic: Golden Hours and Beyond
The interplay of light is crucial in landscape photography! The golden hours during sunrise and sunset gift us with a soft, warm light that brings out vibrant colours and textures. But hey, don't underestimate the beauty of diffused light on cloudy days or the dramatic shadows during the midday sun!
Capturing Motion and Stillness
Nature is always in motion, from the flowing water to the rustling leaves and passing clouds. Capture the sense of motion with long exposures or freeze a moment in time with fast shutter speeds. Each approach tells a unique and captivating story. Explore the beauty of nature through photography techniques that bring motion to life.
Essential Equipment and Techniques
Discover the key equipment and techniques utilized in landscape photography. Enhance your understanding of this captivating art form and master the essential tools and skills needed for breathtaking landscape shots.
Camera and Lenses
Having a camera with manual settings provides you with the ability to take control of exposure and focus. Wide-angle lenses are highly sought after for capturing stunning landscapes and offering a wide field of view. On the other hand, telephoto lenses are ideal for isolating distant details and bringing them closer. Explore the possibilities and enhance your photography experience with the right camera and lenses.
Tripod Stability
Having a reliable tripod is essential, particularly when capturing long exposures. It effectively reduces camera shake and allows for precise composition of your shots. Invest in a sturdy tripod for better stability and improved image quality. Say goodbye to blurry photos and elevate your photography game with a high-quality tripod.
Filters for Creativity
Polarizing filters help minimize reflections and improve color saturation, while ND filters enable longer exposures, resulting in captivating effects on water and clouds. Enhance your photography with the power of filters for vibrant and dreamy visuals.
Mastering the Process
Hey there! Want to learn the ins and outs of landscape photography? We've got you covered! By mastering these techniques, you'll be well on your way to becoming a photography pro. Let's dive in!
Pre-Visualization and Planning
Before you begin using your camera, visualize the desired shot you wish to capture. Conduct thorough research on the location, gain insights on the prevailing weather conditions, and pre-plan your composition. This approach will not only enhance the readability of your content but also optimize it for effective SEO by strategically incorporating popular keywords and phrases.
Patience and Persistence
When it comes to nature photography, sometimes it's necessary to be patient and revisit a location multiple times to capture that perfect shot in optimal conditions. Embrace the unpredictable nature of the great outdoors and keep trying until you achieve the desired result.
Post-Processing and Refinement
Editing is the process of bringing your creative vision to life. Enhance colors, adjust exposure, and fine-tune the image to match the emotions you felt while capturing the shot. Achieve the desired look and feel for your images with professional editing techniques.
Telling a Visual Story
Hey, we'd love to hear about how you can capture and tell a visual story through your nature photography!
Evoke Emotions
Landscape and nature photography for success: evoke emotions with your compositions. Capture wonder, tranquility, and awe in your photos. Explore the beauty of nature through stunning imagery.
Showcase Scale
Include elements that create a sense of scale, such as a solitary tree in a vast desert or a person standing atop a mountain peak. Enhance your visual storytelling with compelling visuals of contrasting size.
Highlight Detail
Close-up photography captures the beauty of detailed textures, patterns, and natural formations, providing a fresh and unique view of familiar subjects. Explore captivating close-up shots for a new perspective and appreciation.
Wrapping Up…
Landscape and nature photography is an incredible journey of exploration, learning, and creativity! It challenges photographers to see the world through a unique lens, capturing fleeting moments and sharing the profound beauty of nature with others. Whether it's the grandeur of a mountain range or the delicate petals of a flower, each photograph becomes a testament to Earth's remarkable diversity and the artistry that surrounds us. So, as you embark on your photographic odyssey, remember that nature is both your canvas and your muse, eagerly awaiting to inspire your next masterpiece!
Frequently Asked Questions (FAQs)
Here are some frequently asked questions about Landscape and Nature photography. Enjoy exploring these popular topics!
Q1: Can I Start Landscape Photography with a Basic Camera?
Ans. Indeed, advanced gear can certainly enhance your capabilities; however, it's worth noting that capturing stunning images is well within reach using entry-level DSLRs or even smartphones. The true secret lies in mastering the art of composition, understanding light, and employing various techniques.
Q2: How Do I Deal with Unpredictable Weather during Outdoor Shoots?
Ans. Embrace the unpredictable nature of the weather. Rain, fog, and stormy skies can yield unique and dramatic photographs. However, it is crucial to prioritize your safety and protect your equipment.
Q3: How Do I Approach Wildlife Photography Ethically?
Ans. It is important to honour the space and behaviour of animals. Maintain a safe distance and refrain from interrupting their natural activities. Utilize longer lenses to capture intimate shots without causing any distress or discomfort.
Q4: What Software Is Recommended for Post-Processing Nature Photos?
Ans. Adobe Lightroom and Photoshop are highly popular choices for editing nature photos. These software options offer powerful tools to enhance colors, enrich details, and elevate the overall aesthetics while maintaining the authenticity of the original scene.
Q5: How Can Landscape Photography Contribute to Conservation?
Ans. Breathtaking landscape and nature photographs have the power to ignite a profound bond with our surroundings, nurturing a yearning to safeguard it. By sharing your captivating imagery and spreading awareness, you actively contribute to the noble cause of conservation.