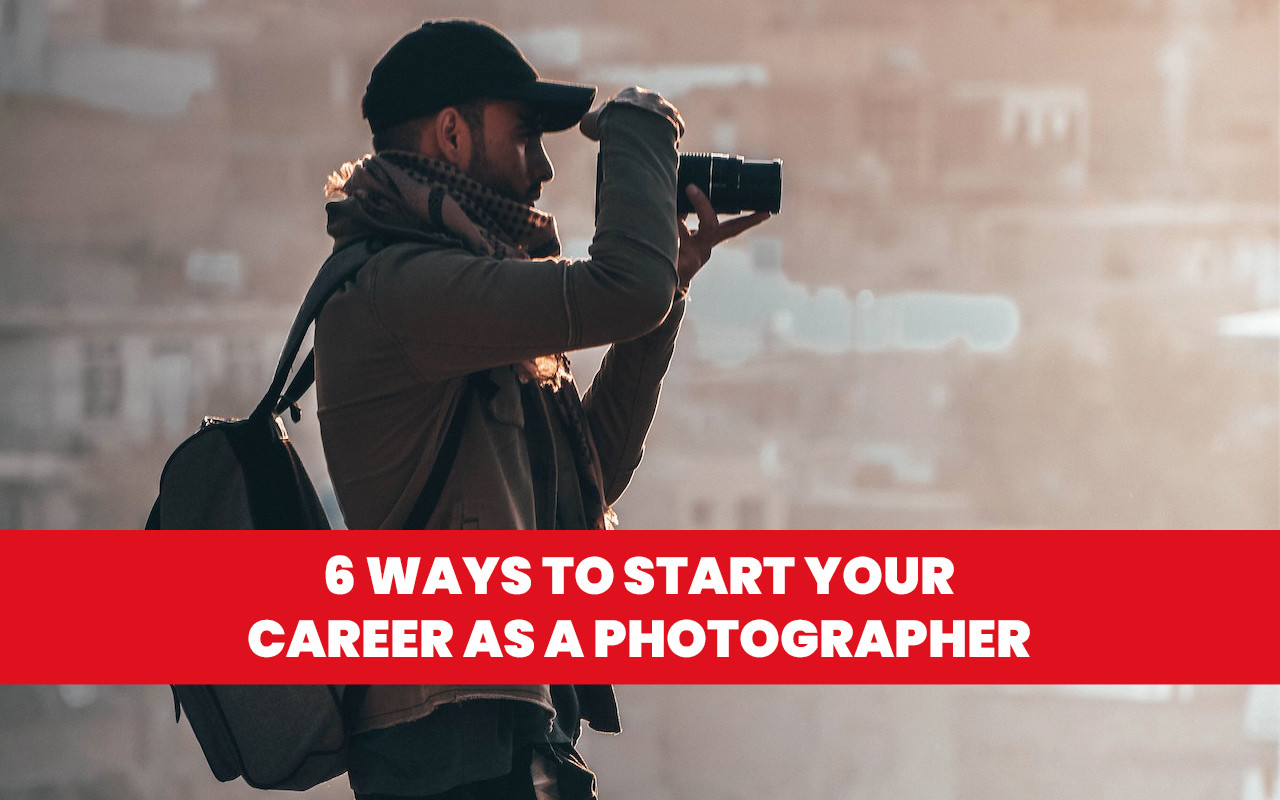 Are you hoping to take on the world of professional Photography? You might be wondering how to begin, whether it's worth pursuing a degree, or whether it is financially feasible. This guide is designed to provide you with six distinct pathways to jumpstart and launch your career. As you progress, you might discover that particular paths align more with your values and beliefs - and that's perfectly okay! The purpose of this article is to demonstrate that there are multiple paths you can take to become a photographer.
Once you decide to pursue this career, you must devote yourself to honing your skills and learning new ones for the future. Becoming an expert in your field may be optional, but you must file your skills to align with industry standards properly. With adequate education, your photographs will remain consistently high quality as you progress to various genres.
6 Ideal Ways to Start your Journey as a Photographer - A Complete Guide
If you want to build a career as an accomplished photographer, these are the best strategies and techniques to get you there.
1) Start Doing Portraits of Family and Friends
For your growing portfolio, observing and drawing inspiration from the lifestyles of those you know is always beneficial. Capture special moments with a camera in hand - be creative! With fashion styling shots one minute and family portraits the next, gain valuable experience as your loved ones receive priceless imagery for free.
Utilizing people you are familiar with provides an excellent opportunity to refine your skills and determine what kind of photography interests you. If it isn't for you, you don't have to take up lifestyle portraits; however, flexing your abilities in many different settings will enable you to build a diverse portfolio, making yourself more employable.
Read also this article: https://thecompellingimage.com/blog/how-to-capture-low-light-photos-9-easy-tips
2) Set Up a Social Media Account Exclusively for Photography
Establishing a dedicated account for your professional photography endeavours is essential in preserving the image you want to present. Post only captivating shots, tag with appropriate locations (#houstonphotographer or #atlantaweddingphotographer), and take advantage of social media platforms as an effortless way to showcase your digital portfolio. By doing so, it can attract potential clients and employers alike!
Rather than neglecting an online presence, leverage social media as your crucial platform and maintain a website portfolio to demonstrate your qualifications. By integrating both, you will create the most comprehensive and compelling professional image to draw in customers from Instagram and Google. You can also think outside the box by promoting your art on TikTok and get thousands of people to gain an intimate view into how you create magic with every shoot or image edit.
3) Get a Degree / Take Workshops
While obtaining a degree is not essential for success in Photography, it will give you an edge by providing expert-level knowledge of the craft. A Bachelor's degree in Photography will teach you the skills to take stunning, professional-level photographs. With the option to focus on specializations such as fashion or photojournalism, you can refine your abilities and assemble a portfolio that will make you stand out after graduating.
The abundance of in-person and online degree options can be overwhelming, yet the actual obstacle most students face is paying for their schooling. Although college tuition may be costly, you can make your dream of becoming a photographer come true by taking advantage of student loans and scholarships. For those needing extra funds, private student loans provide the ideal solution. You are not limited to a certain sum like you would be with federal lenders and, therefore, can borrow more money than usual. With the additional funds, you can make better decisions and purchase precisely what your business needs to maximize profitability.
4) Look for Jobs as a Photographer's Assistant
Though it may not be glamorous, carrying equipment and setting up shoots can provide an invaluable learning opportunity for experienced professionals. For self-taught artists who choose to gain knowledge through experience rather than attending college, the typical career path often involves working as an assistant. As an assistant in this field, your tasks may include:
Prioritizing and organizing cameras and equipment for a flawless shoot.
Staging the set for a shoot, including lighting and props.
Directing clients on how to pose during a shoot.
Changing settings or swapping out props during shootings.
Booking appointments, scheduling consultations and responding to phone calls and emails on behalf of the photographer or agency.
Editing images with software like Photoshop and Lightroom.
Read also this article: https://thecompellingimage.com/blog/Make-a-Pop-up-Photograph
5) Advertise Locally
Connect with small businesses near you, such as restaurants or salons, and inquire if they'd let you use their space for a photo shoot in exchange for complimentary promotional images. Posting shots on social media and tagging you will benefit your portfolio while giving you hands-on experience. If your clients are satisfied with the results of your work, they will undoubtedly consider you for upcoming projects.
Why not take great photos of your experiences and tag them on social media? If you had an unbeatable meal at the pizzeria, enhance the picture and give a shout out. Setting up a professional account offers businesses a quick way to contact you.
6) Set Up a Shop
Photographers looking for an income stream may find Etsy and Redbubble two ideal e-commerce platforms. With these websites, creators can monetize their art through print sales - a great way to generate passive revenue! You can have your most treasured images printed onto many products with them. There are many paths to get your name and art out there while earning money, such as posters, t-shirts, mugs, and laptop stickers. Although it might initially bring in a low income, having an online store provides the opportunity to create visibility and generate supplemental revenue.
As your business grows, you could make more money through commissions from customers that love what you do. You can also share your knowledge and expertise with those new to the industry by offering courses via platforms like Udemy; this will help them get a flying start in their businesses!
Wrapping Up.....
Launching your photography career may be difficult, but over time you will find that it gradually forms an integral part of your life. Becoming a professional photographer can open up an array of exciting career options, such as photojournalism, editing photos and videos, and wedding photography - to name a few. This article will take you through the steps to start your photography career. We hope it inspires and guides you on your creative journey!
Frequently Asked Questions (FAQs)
Get inspired to pursue your passion for Photography with these six ideal ways to launch a successful photography career. Discover the top user queries on how you can make it happen!
Q. How Do I Start My Photography Career?
Ans. 7 steps to pursue your career as a photographer.
Start by questioning yourself.
Enhance the Proper skills.
Start Capturing Photographs.
Enhance your craft by serving as an apprentice to a professional photographer.
Unleash Your Inner Photographer with Workshops and Seminars.
Create a Digital Presence.
Unleash the potential of your photography business with strategic promotion!
Q. What Are The Six Ways To Become A Better Photographer?
Ans. Here are six ways to become a better photographer.
Make sure to brush up on your skills at least once a week.
Seek out insights.
Take advantage of the full potential of your camera - take time to read through its manual!
Collaborate with other photographers to capture unique and beautiful images.
Making mistakes is a source of growth and learning.
Get professional tuition.
Q. Which Photography Career Is Best?
Ans. Some top career options for a professional photographer.
Photojournalist

Photo Editor

Wedding photographer
Video Editor
Stylist
Graphic designer
Photography professor
Lighting technician, and many more.