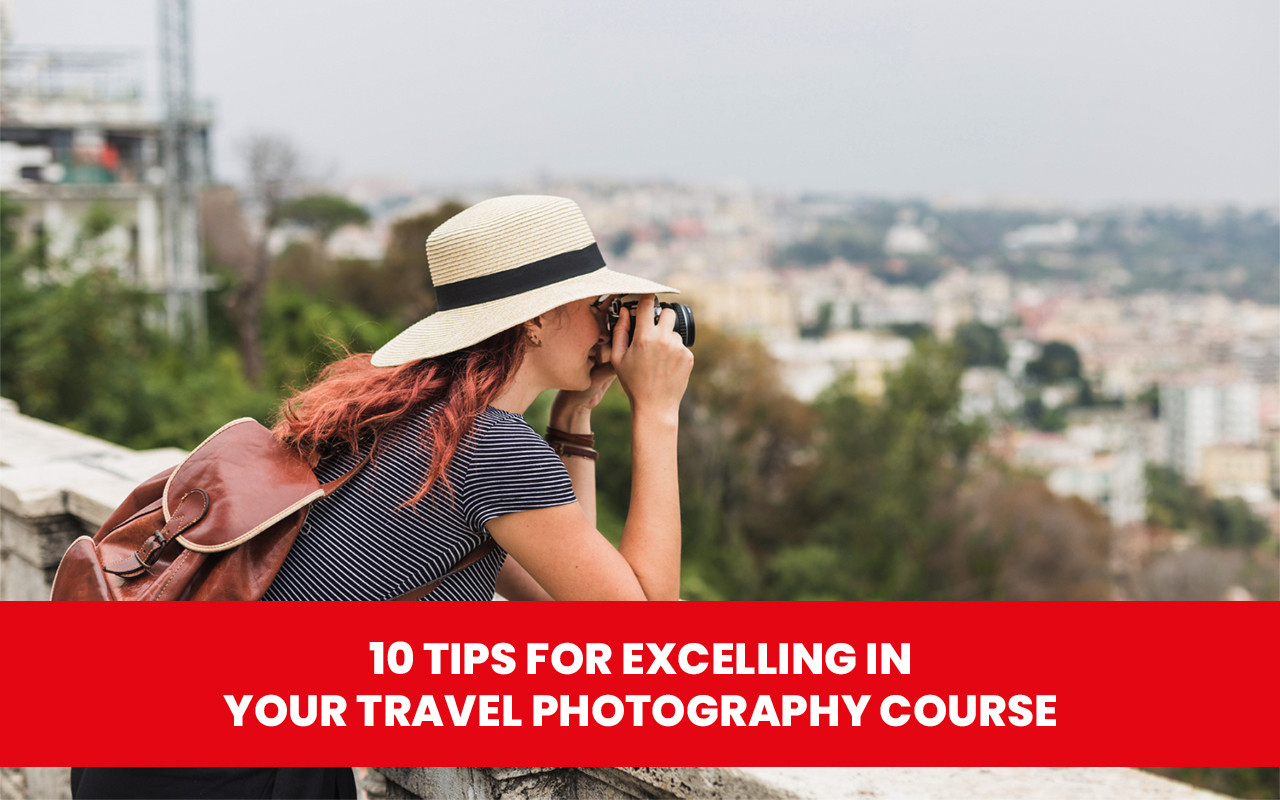 Embarking on a journey to become a skilled travel photographer is an exciting endeavor. In today's digital age, online travel photography courses have become the go-to resource for individuals passionate about capturing the world's beauty through their lenses. However, success in these courses often depends on more than enrolling – it requires dedication, discipline, and a strategic approach. This article will explore ten tips to help you excel in your travel photography course and maximize your online learning experience.
1. Set Clear Goals
Before diving into your travel photography course, take a moment to define your objectives. What do you want to achieve by the end of the course? Is it mastering the technical aspects of photography, improving your composition skills, or building a captivating travel portfolio? Clear goals will help you stay focused and motivated throughout the learning journey.
2. Create a Study Schedule
Online courses offer flexibility, but they also require self-discipline. Create a study schedule that fits your daily routine. Allocate specific time slots for watching lectures, practicing photography, and reviewing assignments. Consistency is critical to steady progress.
3. Invest in the Right Gear
While having the most expensive camera equipment is unnecessary, having the right gear can significantly enhance your learning experience. Ensure you have a camera that allows manual control of settings like aperture, shutter speed, and ISO. Please familiarize yourself with your equipment to make the most of it.
4. Explore Beyond Your Course Materials
While the course curriculum is valuable, please don't limit yourself to it. Explore additional resources such as photography books, YouTube tutorials, and photography forums to gain a broader perspective and gather different insights and techniques.
5. Practice, Practice, Practice
Photography is an art form that improves with practice. Apply what you learn in your course by taking photos regularly. Experiment with different settings, compositions, and lighting conditions. Don't be afraid to make mistakes; they are valuable learning experiences.
6. Seek Feedback and Critique
One of the advantages of online courses is the ability to connect with a global community of fellow photographers. Join online forums or social media groups related to your course and share your work for constructive feedback. Critiques from peers and instructors can help you identify areas for improvement.
7. Study the Work of Great Travel Photographers
Immerse yourself in the work of renowned travel photographers. Analyze their compositions, use of light, and storytelling techniques. Studying the masters can inspire and inform your photography style.
8. Develop Your Editing Skills
Post-processing is a crucial aspect of modern photography. Use editing software like Adobe Lightroom or Photoshop to enhance your photos. Your course may also include editing tutorials to help you refine your images.
9. Embrace Challenges
Travel photography often presents unique challenges like unpredictable weather, lighting conditions, and cultural sensitivities. Embrace these challenges as opportunities to grow. Learn to adapt and find creative solutions to capture stunning images.
10. Stay Inspired
Maintaining motivation throughout your course is essential. Surround yourself with inspiration – follow travel photographers on Instagram, read photography blogs, and engage in discussions with fellow enthusiasts. Keeping your passion alive will drive your progress.
In conclusion,
Excelling in your travel photography course requires dedication, practice, and a genuine passion for the art. Set clear goals, create a structured study routine, and continuously seek inspiration and feedback. Remember that photography is a journey, and each step you take brings you closer to realizing your creative vision. Enjoy the process, and your travel photography skills will undoubtedly flourish.
Frequently Asked Questions (FAQs) about Travel Photography Courses
Q1: Are online travel photography courses as practical as in-person classes?
A1: Online travel photography courses can be highly effective, often offering flexible learning options and access to a wealth of resources. However, the effectiveness depends on your commitment to self-discipline and practice. In-person classes provide immediate feedback and hands-on guidance, which some learners find beneficial.
Q2: How long does it take to become proficient in travel photography through an online course?
A2: The timeline for proficiency varies from person to person and depends on factors like your starting point, the intensity of your study, and the course's content. Generally, consistent practice and learning can yield noticeable improvements within a few months, but mastery is an ongoing journey.
Q3: Can I take an online travel photography course without prior photography experience as a beginner?
A3: Absolutely! Many online courses cater to beginners and cover the fundamentals of photography. Look for courses with clear, beginner-friendly content, and don't hesitate to ask questions and seek guidance from instructors and peers.
Q4: What equipment do I need for a travel photography course?
A4: While a high-end camera isn't necessary, having a camera that allows manual settings control is beneficial. A DSLR or mirrorless camera is a good choice. You'll also need a few essential lenses, a tripod, and a laptop or computer for editing.
Q5: Are online photography courses expensive?
A5: The cost of online photography courses varies widely. Some platforms offer free or low-cost courses, while others charge premium fees for comprehensive programs. Consider your budget and goals when choosing a course, and remember to explore scholarship options.